Composite brake pedal now in production
At the K trade fair 2013, Engel collaborated with ZF Friedrichshafen to set an important milestone in lightweight design by manufacturing composite brake pedals, which are now entering series production for the first time. Using the Engel organomelt process, thermoplastic fabrics are heated, preformed in the mould, and immediately overmoulded with polyamide. The production cell that Engel exhibited at K included a vertical Engel insert injection moulding machine, an Engel easix multiple axis robot and infrared oven for heating the infinite fibre reinforced, semi-finished products.
In designing the brake pedal, the layer structure in the thermoplastic fabric was modified to handle the load. This enabled the component weight to be reduced by around 30 percent compared to conventional steel brake pedals without impairing component properties. Moreover, the lightweight construction method renders many manufacturing process steps obsolete, which increases productivity and cuts unit costs.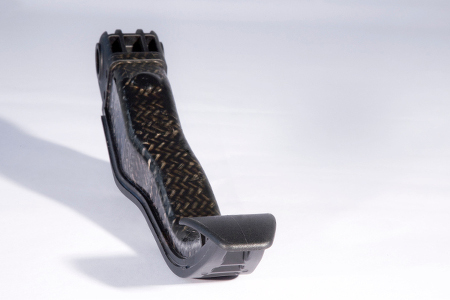 Seamless system solutions
Engel is a one-stop source for tailored system solutions: from automation, process engineering and mould project engineering, through to training and services. In turn-key business, all the plant components are precisely matched right from the outset. This means that efficiency potentials can be made full use of, resulting in the lowest possible unit costs and improved competitiveness. Integrating robots, process engineering, testing equipment and other peripherals with the control technology also facilitates the use and control of more complex processes, thus making a decisive contribution towards greater reproducibility and process reliability.
As the general contractor, Engel has overall responsibility for the production cell, and this includes system components that are implemented in collaboration with partners. Engel works with the global leaders in their respective fields.
Global proximity to the processor
The dynamic markets in the plastics industry require a high level of innovation in the enterprise, and Engel delivers this on a daily basis. Besides the automotive industry, the electronics, telecommunications, domestic appliance and household goods, medical technology and packaging industries are all important target markets.