By continuously adding personnel, ENGEL Stuttgart is addressing the growing number of orders and increasing demands. Of the currently just under 50 employees, 20 are working on-site at the subsidiary, with all others working mainly at the customers' premises. "In the coming years, we will also continue to grow in the area of service", announces Achim Würth, Head of Service at ENGEL in Stuttgart. "The trend towards increased process integration, digitalisation and networking is resulting in our working more and more closely together with our customers throughout the entire life cycle of the injection moulding machines and systems solutions. For this reason, we need even more highly qualified employees. In the continuing development of the location, our customers' satisfaction is always the top priority.
Liquid silicone becoming another main area of focus
In 2017, the Stuttgart Technology Forum has also shored up its application-specific know-how with additional employees, and opened its own MuCell competence centre.
This year, ENGEL Stuttgart will further expand the inject 4.0 area of focus with a self-optimising injection moulding machine and interactive presentation spaces for the areas of smart service and smart production. In addition, the processing of liquid silicone (LSR) will be established as an additional main area of focus. A LSR production cell will be put into operation soon.
During the trade conference, all the exhibits in the Stuttgart Technology Forum can be experienced live. In addition to the fixed areas of focus, other applications will respectively address the subject of the conference. Theory and practice go hand in hand at all ENGEL events. "Each time, our guests take away a great deal of inspiration and tips for their own daily operations", says Claus Wilde. "We also make sure to provide ample opportunity for networking and the exchange of ideas." This information and communication hub again and again attracts processors from other regions in Germany, as well as from Switzerland and Austria, to Stuttgart.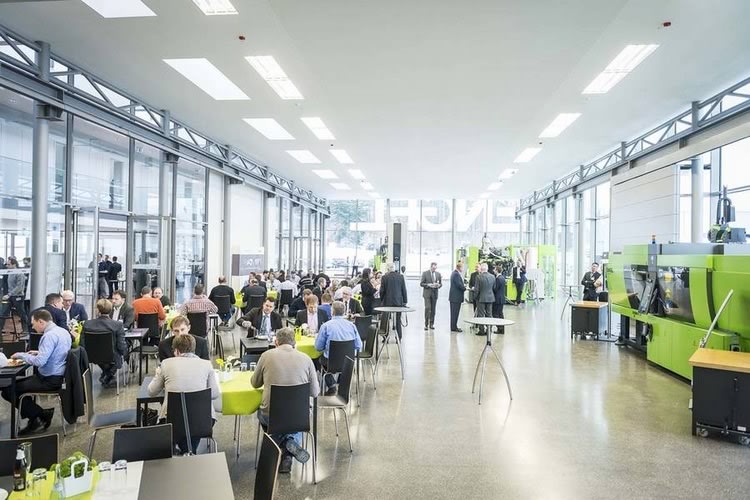 With a surface area of 700 square metres, ENGEL's technology centre in Stuttgart is one of the largest in the group of companies.
Source: ENGEL