At 12th International Fair of Plastics Processing PLASTPOL in Kielce, Poland (27-30 May) BASF will demonstrate its new milk bottles made of Polystyrene under the name "Dream Team".
First time the packaging has been showed at K 2007 I Düsseldorf. Right in time for the K 2007, BASF joined forces with ALPLA, one of the world`s largest manufacturer of plastic beverage bottles, to come up with a bottle for milk and yoghurt beverages using impact resistant Polystyrene (PS-I). This demonstrates that Polystyrene is an inexpensive alternative when it comes to packaging for this sector.
BASF`s Polystyrene type BX 3580 - specially optimized for this application - can be processed by injection blow molding and injection stretch blow molding on the same machines used for PET. The advantage for packaging manufacturers is that the lower density of Polystyrene in comparison to PET can slash material costs by up to 25%.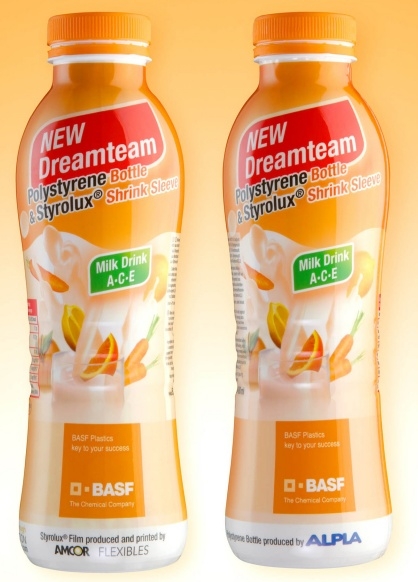 Even more energy and money are saved because injection stretch blow molding uses less compressed air and, unlike PET, the Polystyrene does not have to be pre-dried. - We have filed a patent application for this process and will continue to be involved in this realm - explains Jaroslaw Michniuk, head of marketing for standard styrenics at BASF in Ludwigshafen.
BASF introduced its first Polystyrene milk bottle along with Styrolux HS 70, the new plastic used for the production of shrink films. This very transparent SB polymer has a high maximum shrinkage as well as excellent processing properties, so that films made of this material can easily wrap even odd-shaped articles.