Fossil-fuel-based PET's days are numbered in the beverage market if you listen to two of the sector's biggest players, Coca-Cola and PepsiCo, both of which launched renewably sourced polyester initiatives that they say will become the material of choice for bottles.
Pepsico Green BottleIn presentations that bookended the two-day Biopolymers Symposium organized last week by Intertech Pira and held at the Brown Palace Hotel in Denver, Coca-Cola's Mikell Schultheis and PepsiCo's Edward Socci laid out their respective companies forays into renewably sourced polyethylene terephthalate (PET) and how those efforts will accelerate in coming years.
"[Coca-Cola] really believes that petroleum-based PET is going to be replaced, over time, by renewable PET," Schultheis said. "That's where we see things going, and the reason that's going to happen is we'll have sustainable, renewable feedstocks, and we're also going to be able to drive cost competiveness with petroleum-based products."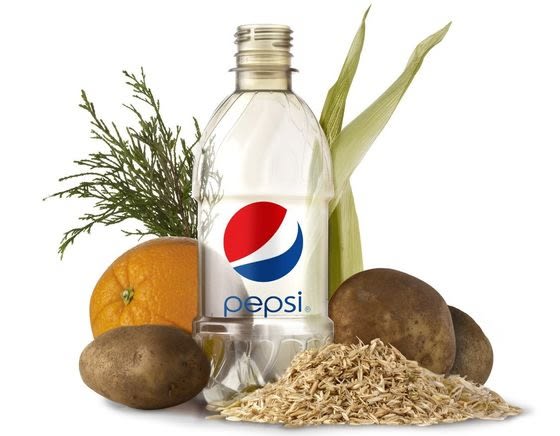 Coke's top competitor PepsiCo's work on reengineering PET started in 2009, with one key goal from the outset. "For us, a drop-in solution was very attractive and very important," Socci said, noting that all along the fabrication and product life chain, from injection molding of preforms to stretch blowmolding bottles to end-of-life recycling, biobased PET needed to function without variance from standard PET.
PepsiCo's Green Bottle differs from Coke's Plant Bottle in that it is completely derived from renewable resources, with both its mono-ethylene glycol (MEG) and terephthalic acid (PTA) generated from biobased materials. While Coke says the ultimate plan for the Plant Bottle is to be 100% biobased, at this time only the MEG segment, which constitutes about 30% of the PET, is derived from renewable materials. In its case, that means Brazilian sugar cane ethanol, which is sent to India for conversion into ethylene and then Indonesia for polymerization into PET.
Schultheis told the Biopolymers conference that in the Second Tier of the Plant Bottle program, the company is planning to shift to biomass for the MEG segment, and then get to a biobased PTA. Schultheis admitted that piece will require a great deal of work and R&D, but Coke is committed, with a tentative timeline for bio-PTA of "2015-plus".
The bottle was introduced in 2009, and last year 2.5 billion Plant Bottles were in the marketplace in 10 countries. By the end of 2011, Schultheis said there would be 7 billion of the bottles in the market.