Clariant's dedicated range of Mevopur masterbatches and compounds for medical and pharmaceutical applications offers catheter manufacturers new options to improve the functionality and performance of their devices and meet the regulatory conditions of the demanding European and United States markets.
Such factors have been fundamental in a leading Chinese catheter manufacturer's selection of Clariant to assist their development of catheter tubing for export to these regions. Catheters are a hUSP Class VI regulated item with potential for material migration. Clariant is currently one of the few Masterbatches companies that can offer solutions in this environment.
Mevopur masterbatches and compounds add advanced visualization and functional effects to different parts of catheter tubing. They are available as single and/or a combination of additives using polymer specific carriers in a wide range of medically-approved plastics, for example, TPU, PEBA, and Polyamide 11, 12. This overcomes manufacturers' challenge of using different polymers to achieve a balance of softness and flexibility in one place and rigidity elsewhere in multi-layer thin-wall extrusions.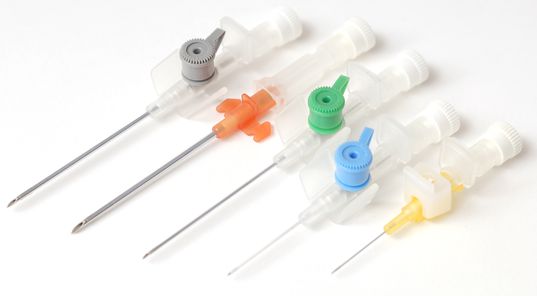 Clariant's cutting-edge functional innovations and visualization aids are designed to help manufacturers' minimize the potential for extractables and leachables from catheter tubing. These include:
Color to identify the catheter, available as a pre-color compound or masterbatch in the specific polymer required for the application in a range of Shore Hardness. This helps give the designer and processor a wider range of possibilities.
Radiopaque compounds using different fillers tailored to offer good processability and radiopacity even in thin walls, to support the need for visualisation inside the body.
Laser marking additives that eliminate inks and potential solvent residues when adding depth gradations, identifications and logos to catheters.
MedX anti-microbial agents from Sanitized AG can be incorporated into Mevopur masterbatches manufactured under the controlled protocols (ISO13485) to support the development of catheters with surfaces that are active against bacteria. Tests of the MedX active ingredients from Sanitized have shown MedX to be effective against antibiotic resistant strains.
Surface lubrication using additives that are not based on fluorine chemistry incorporated directly into the polymer to improve friction characteristics. As a result they avoid the need for an additional surface coating.
At the same time, Mevopur supports requirements for biologically evaluated materials. Clariant's catheter materials contain ingredients that have been biologically evaluated using the test protocols of USP part 87, 88 for "Class VI" devices, or ISO10993 parts 4, 5, 10, 11 and 18.
Clariant's ISO17025 certified laboratory in Singapore carries out part 18 of Clariant's raw materials "pre-evaluation" testing according to the ISO10993 standard, by carrying out extraction testing that provides a reference fingerprint for evaluating consistency.
Mevopur masterbatches and compounds are manufactured at Clariant's three ISO13485 certified dedicated medical and pharmaceutical centers of competence based in Singapore, Europe and the United States.
Line segregation for highest risk applications, plus document support and ingredient traceability are further elements that combine to help manufacturers achieve Controlled, Consistent and Compliant products with functionality that can make a real difference to the value and reliability of a catheter.
"Clariant's strength lies in helping catheter tubing manufacturers to achieve their design and functionality desires using pre-evaluated materials recognized for their consistency and compliancy with stringent regulatory requirements, and backed by a controlled manufacturing environment," comments Steve Duckworth, Head of Global Segment Medical and Pharmaceutical, Clariant. "We combine our extensive material expertise and market know-how with the customer's expertise and ideas to conduct a risk assessment and design review process that supports them in meeting stringent regulatory requirements."