Flexible packaging solutions for dry food products
For the packaging of dry free-flowing products such as coffee or tea, Bosch offers customized and modular vertical form fill and seal machines allowing for high flexibility and a broad variety of pack styles and top closures. When looking for packaging solutions regarding flour or sugar, the new mandrel-wheel machine concept and its design provide a high degree of flexibility by shortening size changeover times. The portfolio is completed by product protection systems such as valves and fully integrable equipment including hygienic auger fillers as well as checkweighers.
New cartoning machine for large-scale formats
Visitors to Anuga FoodTec will also see a world premier from Bosch's secondary packaging portfolio. Based on the proven technology of its bag-in-box lines, Bosch has developed the new CFC 2012 horizontal cartoning machine for the food industry. The CFC 2012 is designed for large-scale secondary packaging formats, for instance for cereals. Even for the largest format size, the machine achieves an output of up to 200 folded cartons per minute. Thanks to automatic format adjustments by servo motors, the machine ensures fast and easy format changes. The user-friendly control system further optimizes the infeed and packaging process. Due to reliable rotation and carton pick-up systems, the CFC 2012 allows for safe handling of all carton types.
Band Sealers for high quality bags in many formats
Additionally, Bosch will exhibit two semi-automated band sealers from the Doboy line for the European market. They seal pre-made bags and provide an economical alternative for low quantity applications at the highest quality standards. The band sealers can be used for smallest goods weighing only a few grams up to large volumes of several kilos, and can be customized according to customers' requirements. They reliably pack food products, such as meat, vegetables, fruits, spices, sweets and food supplements.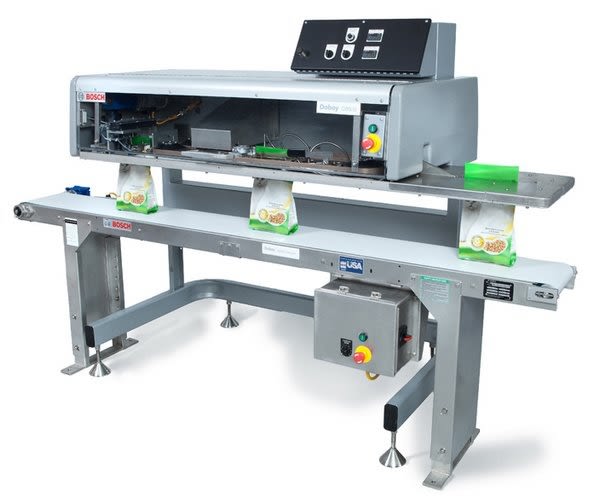 Tailor-made service portfolio
Also at the show, Bosch will showcase its comprehensive after-sales services portfolio. Machine upgrades and modernizations enable customers to flexibly adapt their existing equipment to new market requirements. Bosch demonstrates how tailor-made service packages support customers in achieving maximum output and minimum downtime, ultimately resulting in higher profitability of their packaging machines.