Berlin Packaging, a leading full-service supplier of rigid packaging, today announced it will be a primary stocking supplier for the eco.bottle, America's first molded fiber bottle.
A product of Ecologic Brands, Inc., the eco.bottle is a hybrid fiber-plastic product that uses up to 70% less plastic than traditional plastic bottles, with a molded fiber shell that is 100% recyclable and compostable.
The groundbreaking, patented container is well suited for a wide range of consumer products ranging from pourable goods to beverages, personal care products, and even paints and stains.
Just as innovative as the eco.bottle materials are its post-use recycling instructions. Simply split open the side of the fiber shell and the outer package separates. The fiber halves, made from old corrugated cardboard and newspapers, can be recycled up to seven more times; the #4 inner pouch and closure system can be recycled along with plastic grocery bags in retailer drop-off bins.
"Berlin Packaging prides itself in bringing new innovations to market, and the eco.bottle certainly is the latest package that is creating excitement with our client base," said Glenn Scott, Vice President of Product Development and Strategic Sourcing for Berlin Packaging. "Consumers have proven again and again that they not only embrace environmentally-friendly packaging, but also reward those marketers who offer them. We believe the eco.bottle™ will hold strong appeal to all classes of consumers and will be useful in both product launch and rebranding opportunities".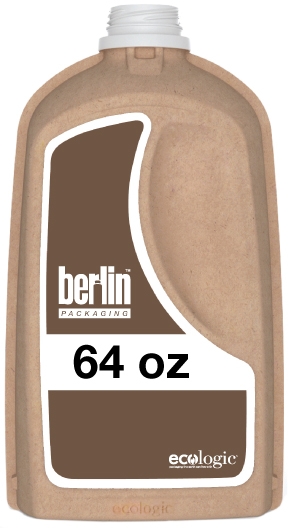 The eco.bottle line is available in a 50-ounce size with a detergent-style dosing cap or twist cap, a 32-ounce size with a detergent-style dosing cap or twist cap, and a 64-ounce size with a 38mm spout suited for orange juice and dairy products. The bottles will be available starting January 2012. Other uses for the eco.bottle include: laundry care, household surface cleaning, automotive appearance products, juices and non-carbonated beverages, lawn and garden products, and other pourable dry and liquid products.
"Ecologic Brands is proud to be partnering with Berlin Packaging to help bring the eco.bottle to America's leading consumer packaged goods companies," said Cris Genovese, Chief Marketing Officer for Ecologic Brands, Inc. "The eco.bottle is disruptive technology that can re-position brands and bring significant sales lifts. The minute people see the eco.bottle on the shelf, it makes an immediate and profound connection. It creates value and brand equity at the same time that it helps the earth."
eco.bottle containers can be supplied fully assembled, requiring minimal filling line modification. They can also be supplied unassembled to the filler, allowing nine times more bottles to be shipped per truck than empty blow molded bottles and providing significant inbound freight savings. Assembled and filled eco.bottle containers pass rigorous International Safe Transit Association (ISTA) performance testing.
Production cost for the eco.bottle currently carries a premium. Marketers who adopt the package can anticipate a future cost comparable to traditional packaging materials over the next 12-18 months as automation and production capacity build. Furthermore, retailers carrying eco.bottle products can create a closed loop system by funneling corrugated cardboard shipping materials from their loading docks back to the bottle manufacturer.