Bayer has opened its first emissions-neutral office building in Asia as part of its Group-wide sustainability program.
Bayer MaterialScience's new building in Greater Noida, near New Delhi, India, which draws 100 percent of its electricity from a photovoltaic plant, needs some 50 percent less power than comparable buildings in the region. It is a further reference project for Bayer's EcoCommercial Building (ECB) program, a specialist global network for sustainable construction.
"Our new office building represents the link between innovation and sustainability," said Dr. Wolfgang Plischke, who is the member of the Bayer AG Board of Management responsible for Innovation, Technology and Environment and for the Asia-Pacific region. "We want to use our skills and products in the field of high-quality materials to boost energy efficiency in buildings, as this approach offers enormous potential for cutting CO2 emissions." Energy consumption in buildings is responsible for around 30 percent of CO2 emissions. "That is why we will continue to expand the EcoCommercial Building program as part of our sustainability strategy – both in Asia and worldwide."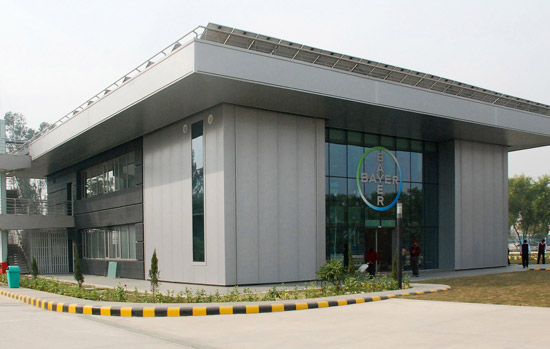 Bayer has previously built a climate-neutral company child daycare center at its Monheim site in Germany and an energy-optimized office building in Belgium. These projects show that approaches such as combining efficient insulation with renewable energies can help to dramatically reduce a building's energy consumption and therefore its CO2 emissions.
The EcoCommercial Building in India, which Bayer built in conjunction with local companies, shows that the concept is also applicable in sub-tropical climates. While in the temperate European climate zone building insulation is primarily used to protect against cold, its foremost purpose in countries such as India is to protect against heat. Foams based on high-quality materials from Bayer MaterialScience perform both tasks with exceptional efficiency.
The new office cost around EUR 5 million to build. It is part of an investment package that Bayer has been implementing at the Greater Noida site. This also includes a new color competence and design center for polycarbonates and Bayer MaterialScience's existing systems house. In total Bayer has invested around EUR 26 million in these projects.