This integrated concept from Bayer MaterialScience strongly reinforces the company's commitment to sustainable development and once again demonstrates its expertise in developing innovative technologies and materials.
"Footwear manufacturers, end consumers and, not least, the environment can all benefit equally from this development," explains Dr. John Zhang, head of Bayer MaterialScience's Global Footwear Competence Center in Shanghai, where the concept was developed.
In microcellular polyurethane elastomer systems for outer soles and midsoles alone, the proportion of renewable raw materials is as high as 70 percent. This high value puts Bayer MaterialScience as a raw material supplier for shoe soles into the number one spot in the industry, as does a proportion of up to 40 percent of renewable materials in the polycarbonate blend used and also the products and technologies developed in-house for solvent- and plasticizer-free textile coatings and adhesive raw materials. Using these coatings and adhesives alone would cut global emissions of organic solvents by approximately 150,000 metric tons.
While shoe soles depend on polyurethane systems having good processing characteristics and a range of properties typical of systems commonly found on the market, abrasion and wear resistance and high flexibility play a key role in water-based coatings with Impranil®. Adhesives based on aqueous Dispercoll® U polyurethane raw materials ensure eco-friendly, long-lasting and flexible bonding between the upper material and the sole.
The green shoe concept also offers clear health and safety benefits for employees of shoe manufacturers: "The aqueous coating and adhesive products are completely solvent-free and, compared with conventional production, the polyurethane products used do not contain any heavy metals. This is also important for disposal, once a shoe has reached the end of its service life," says Dr. Zhang.
The shoe cap used in this prototype of a safety shoe and made from a PC+PLA (polylactic acid) blend from the Makroblend® range is not only lighter than the conventional steel cap. With its high proportion of biobased raw materials, this material with modified impact resistance is also more environmentally friendly and remains recyclable.
Desmopan® thermoplastic polyurethane products based on a high proportion of renewable raw materials have been used for the concept shoes' heel counter, shoelace eyelets and, not least, the manufacturer's logo on the sole. Due to its outstanding mechanical properties, the highly abrasion- and wear-resistant bio-based TPU can of course also be used for traditional TPU shoe components such as outsoles or decorative upper parts.
TPU films from the Dureflex® range from Bayer MaterialScience LLC form a vapor-permeable membrane to reinforce the inner sole, without using plasticizers.
Furthermore, a counterfeit-proof label based on a high-quality polycarbonate film from the Makrofol® ID range is used for the limited edition of the concept shoe. The inscription is carried out using high-contrast laser engraving. In addition, different security features like holograms can be incorporated.
Bayer MaterialScience is also currently working on the development of new technologies to obtain suitable raw materials from waste from biobased natural materials such as straw and wood waste.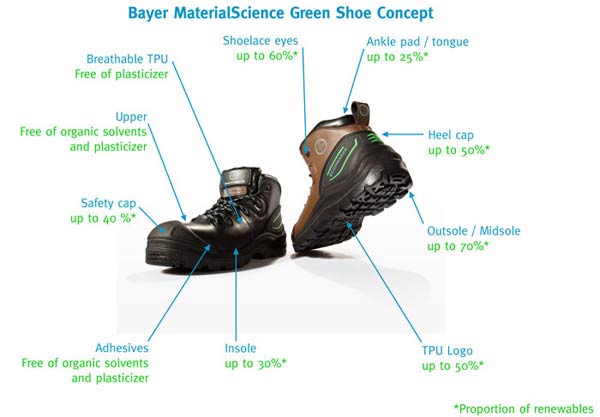 Just a few years ago, the company opened its Global Footwear Competence Center in Shanghai that is equipped with state-of-the-art facilities for footwear applications, ranging from sports to leisure and safety shoes. This center promotes the development of innovative materials and technologies for the footwear industry and provides solutions for customers from all over the world.
The concept shoe was developed there in close collaboration with the Simple Factory Group, whose many years of experience in shoe design and production helped to successfully create the concept.