Circular and almost weightless the soap bubbles flew through Hall 5 of the HMI 2018. Equally perfect were the necessary bubble wand blow rings, which were produced on a BOY 25 E (clamping force 250 kN) at the booth of the BOY partner company Burwinkel Kunststoffwerk GmbH. Developed in the 1950s, the blow rings, which are equipped with numerous liquid-storing cross grooves, can be found in numerous toy shops and supermarkets worldwide.
Almost as long as this time-span is the history of the BOY Injection Moulding Machines up to 250 kN clamping force. Since 1968, this machine size has been produced more than 25,000 times. The current generation is equipped with an energy-efficient servo drive and the intuitive Procan ALPHA control. Despite the machine's compact footprint (1.8 m²), a well-accessible cantilevered two-platen clamping unit offers large tie-bar- and platen- distances for accommodating a wide variety of moulds and removal-automation-systems. The BOY 25 E offers a high economic efficiency due to low machine hour rates at an attractive price-performance ratio.
Dirk Steinbach, longtime BOY-sales consultant from the north German catchment area of the Hanover Fair, was highly satisfied with the many expert discussions at the HMI. "During the five days of the fair, we established very interesting contacts and had promising discussions. The interesting exhibition application of our BOY Injection Moulding Machine and above all the good name of our longtime customer Burwinkel attracted many visitors to the booth."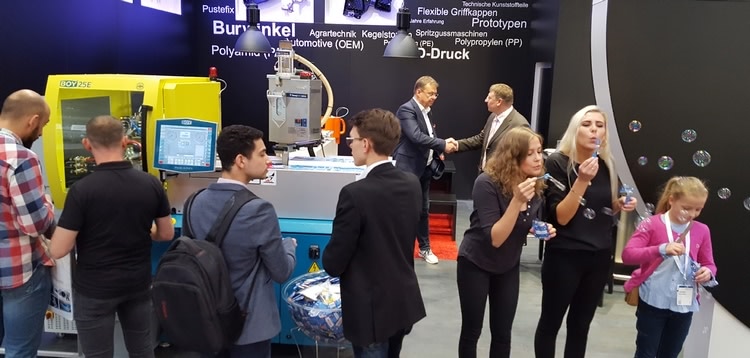 Bubble wand blow rings from BOY produced on site and directly tested by the visitors
Source: Dr. Boy GmbH & Co. KG