Many visitors to the Hanover Trade Fair (April 23 - 27) will react with a smile when they see a yellow handle of a "bubble wand" tube at the HMI in Hall 5 booth B 36. Filled with a special liquid - unfortunately often too little - certainly everyone has held this handle in the hands and produced beautifully coloured soap bubbles. A long-lasting and beautiful memory of early childhood days.
The success story of the BOY Injection Moulding Machine is just as long-lasting as the memory of the bubble wand handle, which the BOY 25 E produces on a quadruple mould at the booth of the company Burwinkel (Hall 5 Stand B 36). Since 1968, more than 25,000 machines of this series have been delivered. The current generation has a clamping force of 250 kN and is equipped with an energy-efficient servo drive. Despite the machine's compact footprint (1.8 m²), a well-accessible cantilevered two-platen clamping system offers large tie-bar and platen- distances for accommodating a wide range of moulds and removal- systems. With low machine hour rates and a high economic efficiency the BOY 25 E offers an attractive price-performance ratio.
Burwinkel Kunststoffwerk GmbH from Mühlen in northern part of Germany has been counting on the reliability of the BOY Injection Moulding Machines for many years. Among the 100 Injection Moulding Machines in the well-stocked production hall, there is a total of 24 BOY Injection Moulding Machines, including six Injection Moulding Machines of the aforementioned series. The plastics processing company has its own mould-making department, it prints and assembles plastic articles for a variety of industries.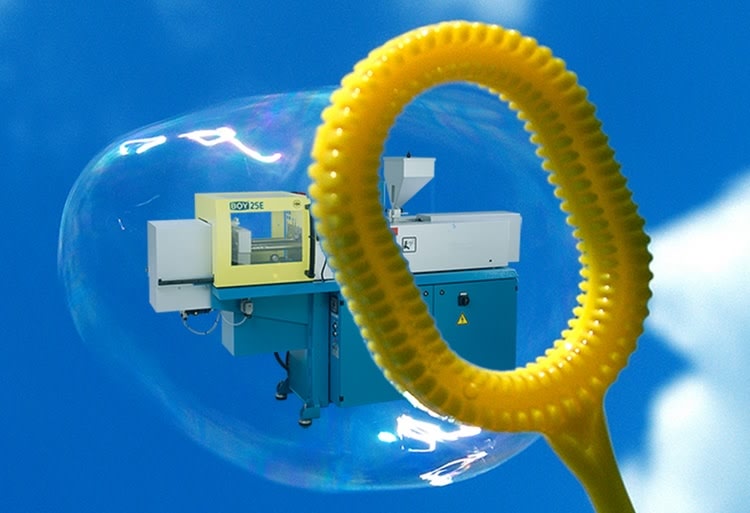 Dr. Boy GmbH & Co. KG is one of the leading worldwide manufacturers of injection molding machines with clamping forces up to 110 US tons (1,000 kN). These very compact, durable machines work precisely, provide energy-savings and therefore are highly economical. BOY continually sets new standards in our industry with innovative concepts and solutions. Since the company was founded in 1968, nearly 50,000 Injection Moulding Machines have been delivered worldwide. The privately owned company continues to put special emphasis on engineered performance and high-class "made in Germany" workmanship.
Source: Dr. Boy GmbH & Co. KG