BASF's biodegradable plastic ecovio FS Paper takes center stage in a pilot project involving disposable and biodegradable tableware during the ADAC Masters Weekend motorsport event being held from August 24 to 26 at the race track Lausitzring. During the weekend of the event, the Polster Catering company, which is in charge of general catering at the Lausitzring, will use only cardboard trays and paper plates that are compostable. Cups will follow suit next season.
The disposable tableware, manufactured by the Hosti company, is not made of a conventional plastic, but rather of paper that is coated with a thin layer of ecovio FS Paper. This creates disposable tableware whose plastic layer ensures that it does not soak through but which does not have to be incinerated – as is usually the case – after being used. Instead, it can be processed along with the organic waste in order to yield valuable compost. This high-quality soil is subsequently used again at the Lausitzring in order to upgrade the soil that has been stressed by the open-cast mining in the past. Thanks to this closed loop system, the project partners have breathed life into a project that is unique on the European continent. The Lausitzring is the first large-scale event location in Europe to introduce such a system. This project is part of the "Green Lausitzring", within the scope of which the management company EuroSpeedway Verwaltungs GmbH, in its capacity as the operator of the Lausitz race track, is supporting and testing environmentally friendly technologies.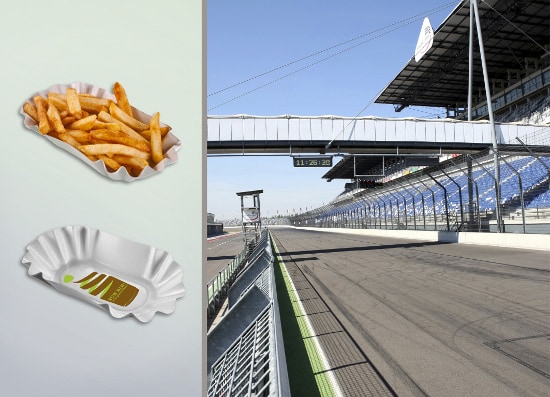 Using – collecting – composting
To make sure that visitors return the used compostable tableware to the catering stands and do not throw it away in the regular trash cans, the organizers will be charging a one-euro deposit per item. The caterers will collect the disposable tableware, together with the food residues, in likewise compostable trash bags and will transport them to the Hörlitz composting plant. The operators of the composting plant have set aside a dedicated area for composting the organic waste from the Lausitzring, where the degradation behavior can be precisely monitored and controlled. Consequently, this pilot project serves not only to underscore an active commitment to saving resources in the realm of motorsports but also to study the degradation behavior of large quantities of trays and plates that have been coated with ecovio FS Paper. This study is being conducted by the Department of Waste Management and Material Flow of the University of Rostock in Germany.
Pilot project: compostable and disposable tableware at large-scale events
Numerous pilot projects have already enabled BASF to demonstrate that organic waste bags made of ecovio FS degrade within a short period of time in industrial composting plants. ecovio is a plastic that meets the strict statutory stipulations of European standard EN 13432 for the biodegradability and compostability of packaging.