At the "World PM2016 Congress and Exhibition" to be held from 9 to 13 October in Hamburg, Germany, Arburg will demonstrate the cost-efficient production of smartphone housings on Stand 129. The innovative powder injection moulding application implemented jointly with partner BASF, which will be shown on a hydraulic Allrounder 470 S, is a production-efficient and cost-effective alternative to conventional machining processes. As part of the Congress accompanying the trade fair, Christian Knöpfle, Application Technology Consulting at Arburg, will report on the results of his Bachelor thesis on the quality optimisation of MIM parts.
"The booming international smartphone market offers huge potential for powder injection moulding," says Arburg PIM expert Hartmut Walcher. "We're receiving more and more inquiries from this segment at international trade fairs. As a result, we've now established a joint venture with BASF for an innovative PIM application that will be seen for the first time at the World PM2016 fair. This enables significant cost savings in comparison with conventional machining processes."
Exhibition: innovative smartphone application
A hydraulic Allrounder 470 S with a clamping force of 1,100 kN and PIM equipment will produce back housings for smartphones in Hamburg. Catamold 17-4 PH Plus from BASF is used as the feedstock. In addition to the back housing, the changeable hot-runner mould featuring liquid temperature control is also designed to produce a closed or four-part frame for smartphone housings.
At the World PM2016 trade fair, a green compact for a smartphone back housing in an Arburg design will be produced in a cycle time of around one minute. In order to minimise part distortion at a wall thickness of only around one millimetre, the mould temperature is dynamically controlled in the subsequent sintering process to ensure a constant green density throughout the entire part. The reason for dynamic mould temperature control is the significantly higher thermal conductivity of the feedstock compared to thermoplastics. A linear MULTILIFT SELECT robotic system gently removes the moulded green compacts and sets them down on a slide rail.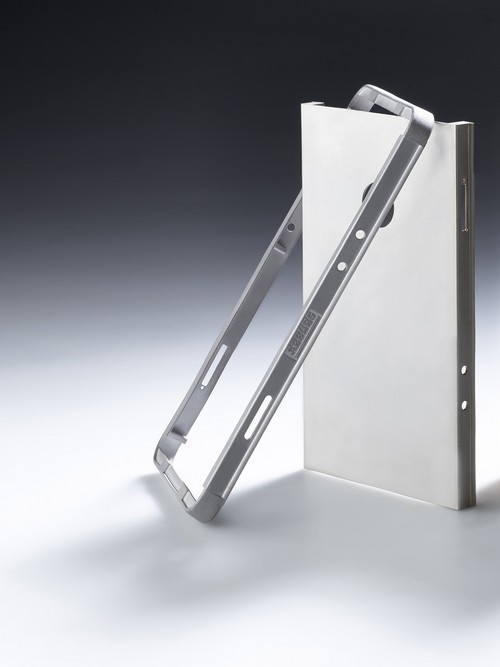 Congress: presentation on quality optimisation
Christian Knöpfle, Application Technology Consultant at Arburg, will speak on the results of his scientific investigations into the quality optimisation of MIM parts at the Congress accompanying the trade fair on 10 October 2016 ("Technical Session 5", 2:00 to 3:40 p.m.). The presentation will cover the effects of the process parameters injection speed, holding pressure, mould temperature, cavity evacuation and gate geometry on the quality of MIM parts.
Arburg: More than 50 years of PIM experience
Injection moulding machine manufacturer Arburg has more than 50 years of experience in powder injection moulding and has produced far in excess of 1,000 PIM machines for a broad range of applications and industries, including the automotive, jewellery and watch industries, as well as the IT and dental sectors. The company's expertise ranges from feedstock preparation and the complex manufacturing of micro-PIM parts through to cost-effective component assembly integration and the design and implementation of complete turnkey systems. In addition, in addition to injection moulding, all upstream and downstream production steps such as material preparation, debinding, sintering and part analyses can also be tested under practical conditions at its in-house PIM laboratory.