Hybrid Allrounder produces syringe barrels
With the manufacture of syringe barrels featuring a thread, Arburg will demonstrate how disposable items can be produced in high quality and large volumes. Using a mould from Tim Plastik, Turkey, a hybrid Allrounder 520 H with a clamping force of 1,500 kN will produce eight 20 ml syringe barrels from PP in a cycle time of around eleven seconds. The part weight is around 7 grams. Sophisticated temperature control technology is used in order to meet the stringent part tolerance requirements. Before the mould is opened, an unscrewing unit is used to perform so-called Luer Lock thread demoulding.
Hidrive series: combination of electric and hydraulic machine technology
The hybrid Allrounder Hidrive series machines are characterised by high productivity, short cycle times and high energy efficiency and are therefore predestined for high-performance applications. The speed and precision associated with electric technology are combined with hydraulic power and dynamics for uncompromising production performance. This is further enhanced by performance-optimised hydraulic accumulator technology. Allrounder H machines bear the Arburg "e²" energy efficiency label as an indication of their energy-optimised operation.
Toy buggy in a single injection moulding cycle
Using a toy buggy as an example, Arburg will demonstrate the high-quality, automated and cost-effective manufacture of standard products. This exhibit demonstrates the performance of the proven hydraulic Golden Edition machine series. An Allrounder 420 C Golden Edition with a clamping force of 1,000 kN will produce all the components in a single step using a 1+1+2-cavity family mould. The cycle time is around 30 seconds.
After the injection moulding process, a Multilift Select robotic system then removes the sprue as well as the four individual components (roof, chassis and two axles with wheels) and joins them together on the assembly table to produce the finished buggy.
The exhibited machine will feature the Arburg productivity package. This package includes the Arburg energy saving system (AES) with variable-speed pump drive and water-cooled drive motor. Here, operation with two control pumps, which enable simultaneous machine movements, is rendered even more cost-effective. Advantages of the productivity package include a reduction in energy requirement by up to 20 percent, five percent shorter dry cycle times and minimised emissions.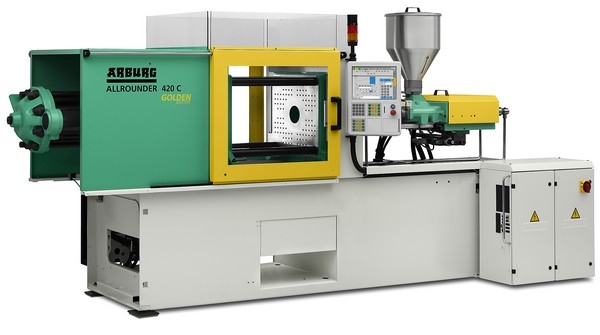 Cost-effective entry into automated production
The Multilift Select is the entry-level model of the Arburg linear robotic systems. It features servo-electric drive axes and is fully integrated in the Selogica machine control system. For the operator, this means: only one data set, a familiar approach during programming and perfect synchronisation of robotic system and machine. Moreover, the Multilift Select is extremely simple to program thanks to the teach-in function.