Packaging version: high performance and speed
In order to meet the high demands of the packaging industry, Arburg offers Packaging (P) versions of the hybrid and electric Hidrive and Alldrive high-performance machines. These combine high productivity with reduced energy consumption and are characterised by a well-balanced combination of distance between tie-bars, clamping force and opening stroke. Moreover, they provide precise, energy-saving mould movements (through servo-electric toggle-type clamping units), high plasticising performance (through barrier screws and servo-electric dosage drives), dynamic position-regulated screws and effective injection volume flows.
Cost-effective hydraulic machine technology
With the second exhibit, Arburg will present its successful hydraulic Golden Edition machine series. The Allrounder 470 C Golden Edition with a clamping force of 1,500 kN and a size 400 injection unit operates with a 2-cavity mould from Elektro-Plast and demonstrates how a technical part can be produced cost effectively in high quality. In order to separate the sprue reliably and quickly, the machine is equipped with a servo-electric Integralpicker. This offers low-cost entry into automated part removal. Three servo-electric axes permit fast, precise mould entry. The features of this picker include simultaneous, freely-programmable machine movements, as well as high dynamics, repeat accuracy and energy efficiency. The standard teach-in function is a quick and easy way to program the picker, which reduces the set-up times.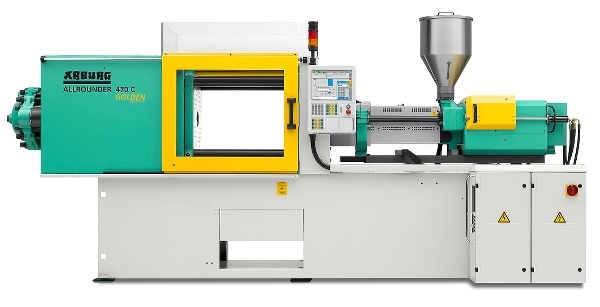 Arburg host computer system (ALS): efficiently planned and optimised production
Ensuring consistently high product quality, optimising production capacity utilisation and minimising downtimes to enhance the energy efficiency of production processes will become increasingly important in ensuring cost-effective production in the future. For this purpose, the Arburg host computer system (ALS) provides the ideal control instrument between production planning and the production process itself. On a fully functional version of the host computer system, Arburg will present to customers the tools from this modular kit that can be used to introduce and expand production management in individual companies.