Saudi Arabia's plastics market is booming. Consequently, the training sector there must provide the relevant skilled workers.
One institution to have taken on this task is the "Higher Institute for Plastics Fabrication" (HIPF) in Riad, which, in the manner of a vocational college, trains young people to become specialists in plastics processing.
Fifteen Allrounders are available to the students in the injection moulding department. In this summer, an information seminar from the "Technology on Tour" series on current injection moulding topics was held here for packaging and medical sector customers, which was extremely well visited with 37 participants. The Institute took the opportunity of the event to present its training offerings to local plastics processing companies. On the second day, an Arburg information seminar was then held for the HIPF students.
Top-class technical equipment is available in all processing areas at the Institute. In addition to the 15 Allrounders, for example, there are further machines for practical training in the fields of blow moulding, thermoforming and extrusion. Nine Japanese experts provide support to 72 trainers and teachers, as well as 25 further employees. One of the reasons why Arburg chose this training centre as the venue for its seminar is because its aims are closely related to the general topic of "plastics processing".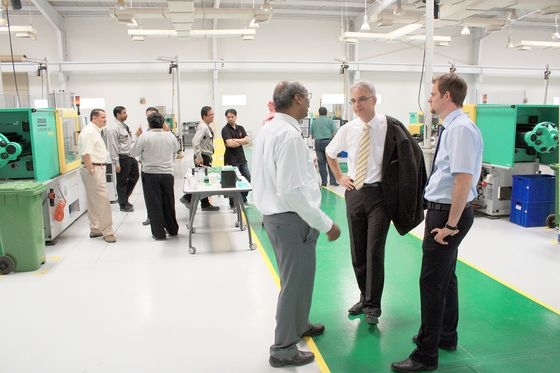 A total of 37 customers and prospects came to find out more about the topics of medical technology/clean room production and packaging technology, with a special focus on closure caps, thin-walled containers and in-mould labelling (IML). Several Arburg specialists spoke at the HIPF in order to clearly explain technical issues and answer the participants' questions in detail. This was complemented by information on the advantages of the Arburg electric and hybrid Allrounders. The Higher Institute, its philosophy and offerings were also introduced to the customers.
On the second day, it was the HIPF trainees' turn to be the main focus of the event. In addition to a presentation on the major differences between electric and hydraulic machines, the speakers also took time to demonstrate the flexibility of Arburg's injection moulding technology based on specific product examples from the clean room and packaging fields. The students showed a high degree of interest in the platform offered to them. Numerous detailed questions came from the audience, mainly relating to the Allrounder and the Selogica machine control system.
The event was consequently a success in two respects. Firstly, Arburg was able to inform customers and prospects about the latest developments in current injection moulding sectors and secondly, to enlighten the HIPF students on the fundamental details of Allrounder machine technology and product solutions. Both Arburg and the Higher Institute for Plastics Fabrication thus succeeded in effectively drawing attention to themselves in this important regional market, as well as convincing the trade visitors of their high performance in training, technology and service.