Arburg will be exhibiting at the Plagkem in Celje, Slovenia from 21 to 24 April 2015. This trade fair is an important forum for Arburg to present its range of products and services to existing and prospective customers in South East Europe. The main focus for trade visitors to exhibition stand no. 32 in Hall K will be the automated efficient production of an injection moulded toy buggy with an energy-optimised hydraulic Allrounder.
Stephan Doehler, European Sales Director at Arburg, explains the situation: "In view of the need for the economical manufacture of large volumes of high-quality technical moulded parts for the automotive and household appliance sectors, which are so important in this market, automation is becoming an increasingly important topic." "At the Plagkem 2015 in Slovenia, we will present the automated manufacture of a toy buggy using a cost-effective production cell to demonstrate the potential of our products and expertise in this sector."
Toy buggy in a single injection moulding cycle
This exhibit demonstrates the performance of the proven hydraulic Golden Edition machine series. An Allrounder 420 C Golden Edition produces al the components in a single step using a family mould. The cycle time is 25 seconds.
After the injection moulding process, a Multilift Select robotic system then removes the sprue as well as the four individual components (roof, chassis and two axles with wheels) and joins them together on the assembly table to produce the finished buggy.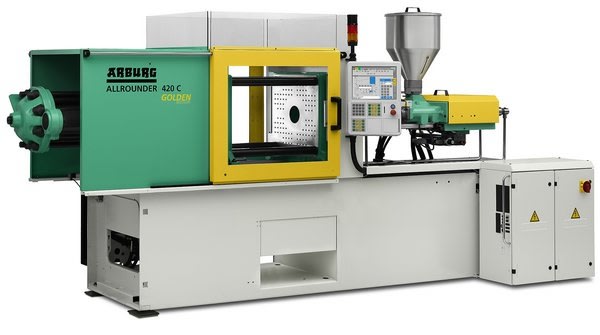 Energy-optimised hydraulic machine technology
The exhibit is equipped with the Arburg productivity package. This includes the Arburg energy-saving system (AES) with speed-controlled pump drive and water-cooled drive motor. Here, operation with two regulating pumps, which enable simultaneous machine movements, is rendered even more cost-effective. Advantages of the productivity package include a reduction in energy requirement by up to 20 percent, five percent shorter dry cycle times and minimised emissions.
Cost-effective automation solution
The Multilift Select is the entry-level model of the Arburg linear robotic systems. It features servo-electric drive axes and is fully integrated in the Selogica machine control system. For the user, this means only one data record, no re-thinking required during programming and perfect synchronisation of robotic system and machine. Moreover, the Multilift Select is extremely simple to program thanks to the teach-in function. The advantages of this strategy are evident. Programming times and changeover processes are efficiently shortened, handling sequences are more reliable overall and training expenses are reduced significantly.
Together with a conveyor belt, guarding and the Allrounder Golden Edition, the Multilift Select forms a complete, automated production unit that is immediately ready for operation.