Wide-ranging concept regarding clean room solutions for medical technology applications.
Arburg offers a broad range of clean-room machines and concepts for the production of medical technology components. An innovative compact clean room solution will be presented at the Medtec 2011: An electric Allrounder 370 A injection moulding machine will produce medical technology components and transfer them to a docked clean room for further processing.
Partners Arburg (injection moulding technology), Alpha Ionstatex (clean room technology) and BMP (quality monitoring) will present this modular clean room solution. At the centre of the solution is an electric Allrounder 370 A with a clamping force of 600 kN and a size 170 injection unit. It produces dosage chambers made from PP by way of example. A 2-cavity mould made by Rittinghaus is used and the cycle time is 6.5 s. Reject parts are separated by means of a selection flap, the good parts, weighing 2 g, fall onto an encapsulated conveyor belt and are transported into the docked clean room for packaging and quality control. This island solution can be flexibly expanded as required.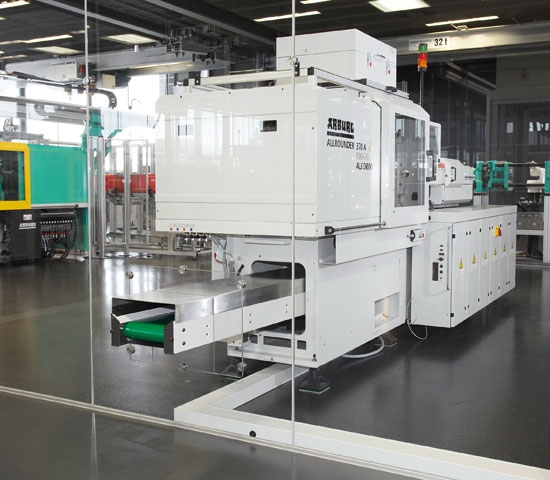 The clean room concept built around the Allrounder 370 A meets the requirements of clean room class ISO 6-7. A clean room module with air ionisation positioned above the clamping unit, an encapsulated conveyor belt and FDA/NSF approved lubricants are responsible for clean production conditions. The raised machine base, which is covered on the injection side, as well as the abrasion and scratch resistant housing with powder-coated components and panels in light grey, are easy to clean. Water-cooled motors for the servo-electric drive axes prevent air turbulence.
Like all Arburg injection moulding machines, the Allrounder 370 A features a modular design and can be individually adapted to the requirements at hand. For particularly stringent cleanliness requirements, individually configurable injection moulding machines are available with corrosion-resistant mounting surfaces and a fully encapsulated clamping unit in a stainless steel housing, which can be cleaned particularly effectively and quickly.
The medical technology concepts extend from machines decentrally docked to a clean room through to complete production cells located in the clean room. As a general contractor and service provider, Arburg also assumes overall responsibility for planning, implementation and function of turnkey projects.