From 1 to 5 April 2012, Arburg will present with a total of six exhibits a specifically the US market addressing representative selection from its current product range at the NPE in Orlando.
The focus will be on the subject of efficient production. One of the highlights on the 500 m² exhibition stand, no. 3729 in the West Hall, will be the US premiere of the new
Edrive
series, with which Arburg has expanded its electric machine range. The stand will also feature electric and hybrid exhibits from the high-performance Alldrive and Hidrive series, as well as a vertical machine. There will be demonstrations involving the production of moulded parts for the automotive, medical technology, electronics and packaging sectors. The Selogica control system will also be on show, providing impressive evidence of its benefits in increasing efficiency.
"The focus during our appearance at the NPE will be on efficient moulded part production," explains Friedrich Kanz, Managing Director of the Arburg Inc. subsidiary. "Important factors in reducing unit costs are energy efficiency, optimised production and, above all, cycle times. These exhibits and the production of a wide variety of moulded parts will enable us to prove to visitors to the trade fair in Orlando that Arburg's modular range and expertise in applications technology enable us to offer the optimal injection moulding solution for every requirement."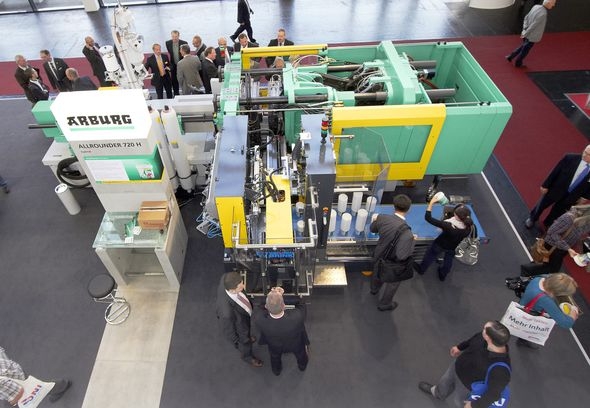 Edrive: electric machines for a wide range of applications
The new Edrive series has expanded Arburg's electric machine range. The Allrounder E machines cover a range of clamping forces from 600 to 2,000 kN (66 to 220 US tons). The appearance of the Allrounder 370 E at the NPE show will mark the US debut of the new series. The Edrive machines are primarily designed for the efficient production of standard items, such as technical moulded parts, making them an energy-efficient electric alternative to basic hydraulic machines. Thus, the Edrive series for standard applications is the ideal complement to the existing Arburg range, which completely covers the high-performance sector with the Alldrive and Hidrive machine series.
Electric and hybrid machines for high-end applications
With a total of three high-performance machines, the electric Alldrive series will be prominently represented. The exhibits will offer impressive proof of their capabilities in a range of different applications, with clamping forces from 350 to 2,000 kN (38 to 220 US tons). The smallest electric Allrounder 270 A with a clamping force of 350 kN (38 US tons) operates with the Arburg micro-injection module, which combines an 8-mm injection screw with a second screw for melting the material. The electric Allrounder 520 A with a clamping force of 1,500 kN (165 US tons) operates with a 32-cavity mould and produces syringe barrels in a cycle time of 6.5 seconds. In order to meet the requirements of the medical technology sector, the exhibit will have a completely encapsulated, stainless steel clamping unit.