Arburg will be demonstrating the breadth of its product range at the MSV, which will be held in Brno from 29 September 29 to 3 October 2014. This is unique in the plastics industry ranging from additive manufacturing with the Freeformer to injection moulding with Allrounders. At Exhibition Stand 38/Hall G1, trade visitors will witness additive manufacturing of one-off parts and small-volume batches, mass production of syringe barrels and automated manufacturing of standard products.
"We are very proud that we can present innovations with the Freeformer and Arburg Plastic Freeforming, which have caused a sensation in the plastics industry, here in Brno," says Jaroslav Novak, Managing Director of the Czech subsidiary and of the Slovak representative office. "Furthermore, we will be showcasing two injection moulding exhibits that demonstrate our expertise and the performance of our products in the field of medical technology and automation."
Industrial additive manufacturing with standard granulates
With the Freeformer, Arburg has significantly expanded its product offering for plastic processing. This machine cost-efficiently produces plastic components as one-off parts or in small batches directly from CAD data and without a mould. Inexpensive standard granulates are processed by first being melted in a plasticising cylinder, similarly to the process for injection moulding. A stationary discharge unit with a special nozzle applies the plastic drops to the movable component carrier in layers, using high-frequency piezo technology, at a specified duty cycle (60 to 200 Hertz). Depending on the nozzle, the size of the plastic droplets produced under pressure is between 0.18 and 0.3 millimetres in diameter.
This industrial process enables the production of fully-functional parts and not only demonstration models and prototypes. New types of geometries are also made possible. The construction chamber of the Freeformer is designed so that parts with dimensions up to max. 230 x 130 x 250 mm can be manufactured inside it.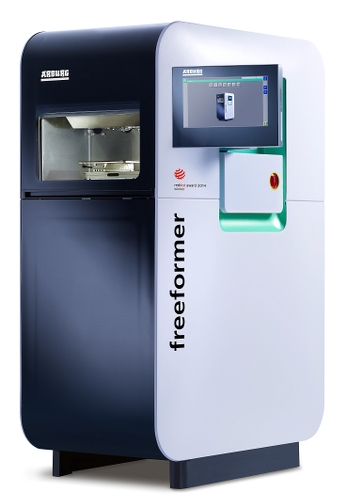 A further advantage of working with the Freeformer is the absence of both dust and emissions, meaning that no additional infrastructure is required.
The Freeformer exhibit at the MSV features a three-axis component carrier and two discharge units, so that multi-component parts can be manufactured – for example in different colours, with special tactile properties or as hard-soft combinations.