The AirMove system made by trio-technik carries finished parts directly from the machine to the destination via a closed pipe system.
The air flow blower fitted to the machine is easily capable of covering transport distances of as much as 100 metres and of conveying several million parts every day.
The closed stainless steel pipe system guarantees the encapsulated conveyance of the articles. Contamination from the outside is impossible, and full food safety standards are assured. The pipe system is normally routed along walls and ceilings, with the floor area remaining entirely free and unobstructed. The automatic outlet removal makes intermediate steps such as forklift movements or filling crates and boxes superfluous and helps to save personnel. This, in turn, creates space around the machine and allows injection moulding machines to be installed in the tightest of spaces. Fluctuations in production and downtimes are easily compensated by installing extra bunkers or buffers. For example, a pipe link can be made from the bunker to the downstream automatic assembly machine or to a buffer station.
If the parts are to be distributed to different destinations, a multitude of options are available such as two-way points, intermediate separators and rotary tube distributors. The rotary tube distributor allows the parts to be distributed to as many as eight different target positions. End separators fitted at the end of the conveyor line carry the parts to their destination with point precision. A particularly gentle solution for "slowing down" highly sensitive and delicate parts at the end of the conveyor line is the newly developed end separator Type Zyklon.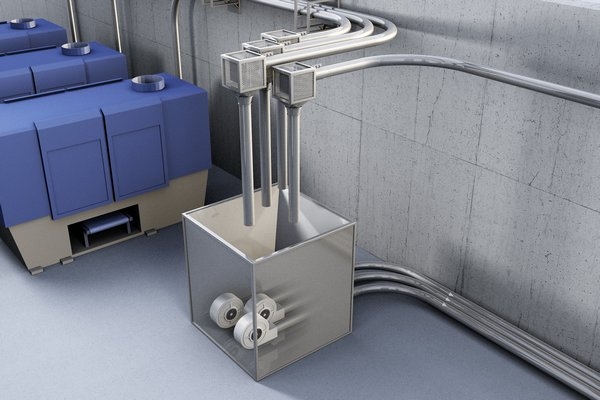 Especially for conveying plastic parts which drop out of the machine with very high temperatures, trio-technik has developed a cooling belt Type 'Cool Down'. Before the injection-moulded parts are carried off in the pipe system, they pass through several stages of the cooling belt system equipped with active cooling. The preferred items carried in the air flow conveyor system are bulk goods such as caps and seals for the drinks and cosmetics industry, but also electrical parts, metal articles and many more items
Every project involving an AirMove system begins with detailed consulting work by trio-technik GmbH. After the first on-site inspections, their technicians cooperate closely with the customer work out the perfect customised conveyor system. The trio-technik team with its many years of experience and expertise is also at hand when it comes to developing production hall concepts, assembly or start-up.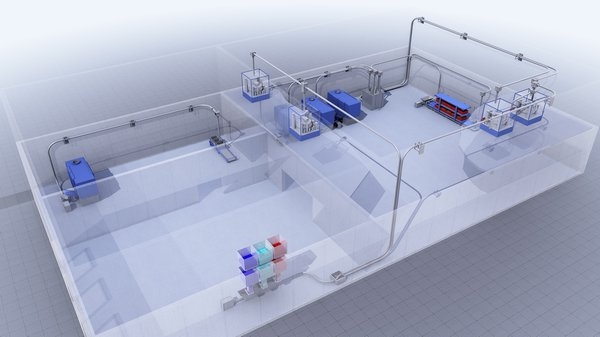 Trio-technik Maschinenbau GmbH with its headquarters in D-58540 Meinerzhagen specialises in the development and production of high quality, custom-made conveyor belts and automation systems.