Interpack 2011 visitors will be the first to experience Flairfresh – the innovative dispensing solution for washroom hygiene products that offers operational efficiency and sustainability benefits. Flairfresh is the first application using Afa's Flair technology platform that will be launched in the market.
Developed by Afa Dispensing Group (Afa) together with Vendor Washroom Hygiene, Flairfresh is a unique product range that, amongst other benefits, offers an alternative to aerosol based air fresheners and enhances the supply chain efficiency for Vendor.
Flairfresh is based on Afa's revolutionary Flair all-plastic bag-in-bottle technology that was first introduced at the Interpack in 2008. The Flairfresh range is built up around durable dispensers and disposable Flair containers. The products that will be launched in 2011 are an air freshener, manual & touchless soap dispensers (liquid and foam) and a urinal sanitizer. Vendor and Afa are developing further product line additions including door-activated air fresheners and toilet seat cleaners, for later release to the market.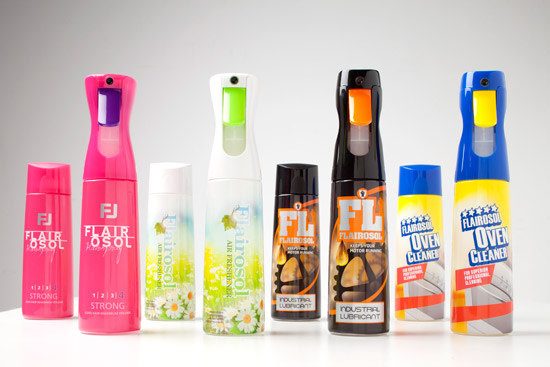 All the dispensers use the same Flair containers as refills. These are all-plastic bag-in-bottle containers that enjoy high evacuation rates and conserve the liquids in an airtight environment. The bottles can easily be replaced when empty (air freshener) or refilled (soap dispensers). The systems are designed such that they enhance the availability of the product at the point of use and that they perfectly fit the Vendor service model.
A remarkable development within the Flairfresh range is the air freshener. This product replaces the traditional aerosol can by a non-pressurized, propellant-free Flair bottle. This pioneering development provides similar performance to aerosol packaging but is VOC-free and offers a safer and an environmental friendly alternative to existing aerosol based air fresheners.
The Flairfresh range brings Vendor a uniform platform for its whole range of liquid dispensers where all dispensers benefit from the same Flair technology. The resulting standardization of parts and containers allows for economies of scale, while smart solutions to create dispenser variants and customizations reduce inventory. The absence of pressurized propellant gases in the Flair container eases handling and lowers costs for storage and transport.
"Flairfresh is the first project bringing the benefits of Afa's Flair technology to the market and we were delighted to work together with Vendor to turn the Flair concept into reality," comments Dennis Stevens - the Executive VP, Business Development of Afa Dispensing Group. "Flairfresh offers environmental and operational efficiency advantages that make it an attractive alternative with true differentiation potential for the B2B janitorial market today and the consumer market in the future."
"We are seeing the trend among our customers for sustainable dispensing solutions," comments Alfons Daems, Managing Director of Vendor. "With Flairfresh, Vendor is anticipating the progression of this trend with a visually-appealing product line based on the Vendor philosophy of 100% availability of washroom hygiene to the end-user.
This closed system product line is not only recyclable, but because of its one-platform solution, it also gives our customers the flexibility to change their dispensing liquid at any time, for example switching from liquid soap to foam. We are looking forward to developing a next generation of products to further complement the benefits offered by Flairfresh."