More than 4,100 visitors participated at the Arburg`s Technology Days in Lossburg from 3th to 5th April 2008.
The world of plastics has come together at ARBURG: with more than 4,100 visitors, this event has exceeded all expectations. During ARBURG's Technology Days visitors could view the entire product range displayed with over 50 machine exhibits demonstrating the latest developments and a variety of applications. Lectures by experts on current topics of the branch could also be attended. At this year's Technology Days, attention is focussed on the presentation of the complete ALLROUNDER S series from 125 to 5,000 kN clamping force in rank and file and the ARBURG corporate objective "Energy Efficiency Allround".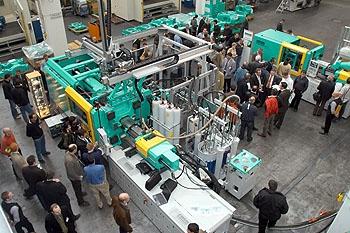 The range of applications includes multi-component injection moulding, functional in-mould assembly, medical technology, clean-room technology and LSR, thermoset, elastomer, wood-plastic composites and leather fibre processing.
The program included also four expert lectures on interesting topics regarding injection moulding and the presentation of our extensive service support.