SPF 2012

World Symposium on Performance Films (formerly Speciality Plastic Films)
Date:
-
Location:
Düsseldorf,

Germany

,


InterContinental Düsseldorf
Organizer

IHS 133 Houndsditch London. EC3A 7BX

Phone:

+44 (0) 20 3159 3300

Fax:

+44 - (0) 20 3159 3277

www: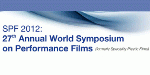 IHS Chemical is pleased to invite you to this year's "SPF" event. Formerly hosted by Maack Business Services (now a part of IHS Chemical), the Speciality Plastic Films (SPF) annual conference has been one of the longest running conferences dedicated to the plastics films business.
Under its new name, World Symposium on Performance Films, the "SPF" will still offer the same high level of knowledge and insight and unique opportunities to exchange ideas with other key players in the industry. Over the past 25 years, this event has established a global reputation for its ability to draw the top providers and users of materials, equipment, and processing technology for films from around the world to discuss the latest developments in this vital continually developing field.
Topics Will Include:
Polyethylene for Film / Sheet
Polypropylene for Film / Sheet
Polyolefin Copolymers and Compounds for Film / Sheet
Styrenics for Film / Sheet
PA, PET and Barrier Resins for Film / Sheet
PVC for Film / Sheet
Bioplastics for Film / Sheet
Innovations in Applications Technologies