Plastic Pipes 2012

International Plastic Pipe Conference
Organizer

Ms Eszter Zsigmond - Congress Ltd. 1026 Budapest, Szilágyi E. Fasor 79., HUNGARY

Phone:

+36 1 212 00 56

Fax:

+36 1 356 65 81

e-mail:

ppxvi@congress.hu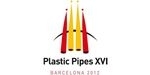 The biennial forum and exhibition attracts more than 500 participants from over 80 countries.

Zoran Davidovski, Chairman of the Organizing Committee is convinced that the event in Spain will attract even greater attention than the previous conference in Vancouver. "Every two years, the major end-users, designers, engineers, contractors and suppliers of the plastic pipe world meet to revue new solutions, applications and developments shaped by this essential technology.

It is a unique exchange of experience and one that also embraces the major trends and issues facing this dynamic international market."


Key subjects in the area of new solutions will focus on landmark projects and novel applications. Given the antiquated state of traditional sewer and utility pipe networks in many countries, rehabilitation chiefly through trenchless technology will be of particular interest. Sustainable construction and Life Cycle Assessment will also feature strongly with the very latest scientific evidence that underlines the low environmental impact of plastic pipe systems.