Istanbul Packaging 2011

Istanbul Packaging Industry Fair 2011
Organizer

Tuyap Fairs and Exhibitions Organization Inc.

Phone:

+90 212 867 11 00

Fax:

+90 212 886 66 98

www:

e-mail:

sales@tuyap.com.tr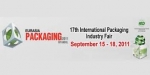 Growing consistently year by year, the Istanbul Packaging Fair exceeded its target of professional visitors and met the expectations of the industry.

Organized by TÜYAP Fairs, Inc. with the support of the Packaging Industrialists Association (ASD), the 16th International Packaging Industry Fair was held between the 16th and 19th of September, 2010 at the TÜYAP Istanbul Fair and Convention Center, Büyükçekmece.

Istanbul Packaging Fair 2010 provided its participants and visitors with great opportunities to increase their strength and flexibility domestically and acquire new and promising customers abroad at a time when the search for new markets is a priority and global competition is critical.

A total of 38.071 professional visitors has been met at Europe's Largest Packaging Fair.

As the most expected event of the packaging industry, the Istanbul Packaging Fair received 33.966 domestic visitors from 68 provinces of Turkey, including special delegations organized by the industry and trade chambers of their respective provinces.

The Istanbul Packaging Fair was attended by 994 companies and representatives, and hosted 4.105 professional visitors from 75 countries, including procurement delegations from Egypt, FYR Macedonia, Russia, Ukraine, Bulgaria, Georgia, Iran, Syria, Israel, Kuwait, Azerbaijan, Armenia, the Turkish Republic of Northern Cyprus, Greece, Croatia and Moldova, whose accommodation and transfers were organized by TÜYAP.

As the largest, widest and most effective fair in the Eurasian region and the first among the annual packaging fairs in Europe, the Istanbul Packaging Fair is a member of the Global Association of the Exhibition Industry (UFI) and the Confederation of Organizers of Packaging Exhibitions (COPE).