Pack Print 2011

International Packaging & Printing Exhibition Pack Print Tunisia
Organizer

Foires Internationales de Tunis 2015 Le Kram - Tunis

Phone:

+216 71 730 111

Fax:

+216 71 730 666

www:

e-mail:

ift.com@fkram.com.tn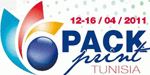 The Pack Print exhibition is an opportunity for concerned professionals:
- To present the resources, the production, and the current evolution of the packaging, the printing and the graphic arts in Tunisia,
- To gather all entities, organizations, and public and private companies of meadows or by far in the techniques of packaging and printing,
- To support an effect of synergy through this event, between the various complementary sectors presented in this exhibition.

Benefit from your visit to the exhibition to fill the tank with ideas and to discover a concentrate of technological innovations, forms and matters.

- "The innovation in packaging remains a major concern for all companies with 2 dimensions to be controlled: design, very marketing, and the technological innovation of the pack, often more difficult to tame and yet carrying real value added worth in term of image. Which packing of today can enable us to develop our products of tomorrow to face competition?"

- "How to gain even more in productivity, flexibility, while maintaining the quality and the safety of our products to guarantee customer satisfaction".

- "How to rationalize our conditionings all while securing less possible returns thanks to a maximum protection of our products at the time of the various stages of storage and transport. How to optimize our packing loan-with-to sell while guaranteeing at the same time a handling in easy and solid store, and the linear gravitational ones.

- "Recycling and environment: how to be eco-design and eco-citizen while answering specific problems of protections of our packing and conditionings".

By visiting Tendencies Area of PACKAGING, find in the form of exhibiting the innovations and the most outstanding innovations of the exhibitors to locate to fill the tank with ideas. It will also offers an interactive platform of exchanges where each visitor can express and deliver his opinion on the innovations presented.