PEPP 2011

20th Annual Polyethylene-PolypropyleneWorld Congress
Date:
-
Location:
Amsterdam,

Netherlands

,


Wyndham Apollo Hotel
Organizer

Harriman Chemsult America Chlor-Alkali Market 12 Ali Drive Middleton, MD 21769 USA

Phone:

+1-212-621-4978

Fax:

+1-212-884-9514

www:

e-mail:

dana.carey@ihs.com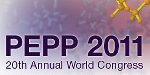 PEPP is the premier global forum addressing technology and business issues along the polyethylene and polypropylene supply chains.

Attendees at PEPP are top managers from technology users at polymer suppliers, processors, and end-users. As a delegate, you will have an unparalleled opportunity to engage with colleagues and customers, gain critical insights from industry experts, and exchange ideas with other leading materials and technology providers.

Subjects to be covered include an in-depth review of the developing global feedstock situation for polyolefins, global and regional market analyses, a new consideration of polypropylene's carbon footprint, profit optimization in polymer plants, new developments in polyethylene slurry loop technology, a new generation of polyolefin quality control systems, melt-phase and solid-state degassing of LDPE, new initiators catalysts and additives, in-situ reactor stabilization technology, new applications in agricultural film, and other important topics.
Presenters will be representing companies from around the world, and we are expecting a global audience.