Minerals in Compounding 2011

The international business and technology conference on minerals as additives, pigments and fillers in polymer compounding
Date:
-
Location:
Atlanta,

United States of America

,


The Sheraton Atlanta Hotel
Organizer

Applied Market Information LLC 1210 Broadcasting Road, Suite #103, Wyomissing, PA 19610

Phone:

+1 610-478-0800

Fax:

+1 610-478-0900

www:

e-mail:

jm@amiplastics-na.com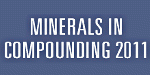 Minerals in Compounding 2011 will be the second annual conference providing a forum for industry leaders to discuss the latest trends and developments pertaining to plastics and the fillers defining them. Plastic materials are all pervasive in our everyday lives. Most people don't realize it but they improve our quality of life and it can be shown that they actually help the environment. This event will showcase the latest technology for your business as well as look at new development opportunities.

Plastics are versatile materials but even they have their limitations. That is where fillers come into play. Fillers have proven themselves effective in overcoming the three main limitations on the mechanical properties of polymer, by improving:
• Modulus
• Heat resistance (HDT or Vicat)
• Creep (slow flow under load)

But the benefits don't stop there. Fillers can help tune electrical, thermal, optical and multitudinous other properties to extend the use of plastics into new application areas.

Minerals in Compounding 2011 will provide the ideal opportunity to
discuss mineral fillers which have dominated the market for decades and
the new types that are constantly appearing. For example, wood and other
natural fibers, new minerals and recycled materials that make effective
fillers. With the recent move away from halogenated flame retardants, fillers came to the rescue again as several mineral fillers have proven their worth there too.

In order to get the most out of these materials it is essential to understand what is available and how the materials work. Then one needs to find the right consultants, suppliers, compounders, injection molders and OEMs.
AMI conferences are internationally recognized as the meeting place for
all members along the supply chain. By concentrating all the information
and people in one place you can get the right input and make the right
contacts to make alliances and find new customers. Some of the featured
topics will include:

• New and traditional fillers
• Eco-friendly fillers
• Surface treatments for fillers (dispersants and coupling agents)
• Processing and compounding.