Machine Tools Exhibition MACH-TOOL

Mach-Tool 2010
Phone:

+48 61 869 2000

www:

e-mail:

info@mtp.pl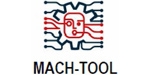 The fair offer includes:
Work Safety in Industry Exhibition,
HAPE Exhibition of Hydraulics, Pneumatics and Drives,
MACH-TOOL Machine Tool Exhibition,
METALFORUM Exhibition of Metallurgy, Foundry Engineering and Metal Industry,
SURFEX Exhibition of Surface Treatment Technologies,
WELDING Exhibition,
TRANSPORTA Exhibition.
Moreover, the best science and research units as well as research and development centres will present their portfolios at Research for Economy Exhibition. The participation of Polish scientific institutions in the exhibition has been financed by the Ministry of Science and Higher Education.
MACH-TOOL Exhibition is an integral part of ITM Poland - New Europe's largest exhibition of modern industrial technologies, which will gather nearly 1,000 companies from dozens of countries, showcasing innovative offers on an area of more than 20,000 square metres.