FSC Packaging For Forests

Packaging For Forests - FSC Packaging Conference at the Interpack trade fair in Düsseldorf
Date:
-
Location:
Düsseldorf,

Germany

,


Interpack Trade Fair
Organizer

FSC (Forest Stewardship Council) Deutschland, Postfach 58 10 (P.O. Box), 79026 Freiburg i. Br., Germany

Phone:

+49 761 38653 55

Fax:

+49 761 38653 79

www:

e-mail:

info@fsc-deutschland.de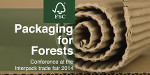 The packaging sector is driven by new demand strategies and guidelines launched by retailers and branded companies. Around one third of globally harvested timber is used for the pulp and paper production. Approximately 20% of all FSC-certified companies are actively engaged in the packaging sector. That means an enormous potential for an increase of FSC-certifications worldwide. German and international players have implemented relevant procurement policies focusing on FSC-certified or recycled material. But even more relevant is to generate an increasing demand volume on the timber markets for packaging from responsible sources! FSC Germany, in corporation with FSC International, likes to organize a one-day conference for both: to stimulate the market and to bring together relevant actors for discussions for building expertise.
Our event agenda is still under development! We are currently working to confirm key speakers and seminar contents. If you have any specific interests do not hesitate to tell us. We also welcome offers of you to become key speaker.
Main topics
Availability of FSC-certified material
Knowing about demand and supply for responsible packaging material
Supply gaps, supply trends over time and geographically
Supply trends for recycling versus virgin fiber
Implementation of FSC
Guidelines for Chain-of-Custody (COC), Trademark, Online Claims Platform (OCP), EUTR
Best practice examples
Use of renewable and recycling material
Complex products
CSR-Management
What are the benefits of FSC?
How can FSC contribute to brand value?