Achema 2012

The world forum for chemical engineering and the process industry
Date:
-
Location:
Frankfurt am Main ,

Germany

,


Exhibition grounds of Messe Frankfurt GmbH
Organizer

DECHEMA Gesellschaft für Chemische Technik und Biotechnologie e.V. Theodor-Heuss-Allee 25 60486 Frankfurt am Main

Phone:

+49 69 7564-700

Fax:

+49 69 7564-298

www:

e-mail:

rentalinquiries@dechema.de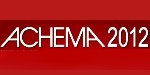 ACHEMA is the world forum of the process industry and the trend-setting technology summit for chemical engineering, environmental protection and biotechnology. The 30th ACHEMA will again be the leading international meeting point for decision-makers and experts from all related industries.
At ACHEMA 2012 some 4,000 exhibitors from all over the world will showcase an impressive array of new developments, representing the innovative drive and dynamic thrust of the
chemical and biotechnology industries together with the related supply industries along the whole value chain.
Exhibition groups
Engineering
Industrial and Labour Safety
Instrumentation, Control and Automation Techniques
Laboratory and Analytical Techniques
Literature, Information, Learning and Teaching Aids
Materials Technology and Testing
Mechanical Processes
Pharmaceutical, Packaging and Storage Techniques
Pumps, Compressors, Valves and Fittings
Research and Innovation
Thermal Processes
Special Show 2012: Innovative Energy Carriers and Storage
The areas "Biotechnology" and "Environmental Protection" are integral, general topics of the ACHEMA.