Want to be the first - all the time? - The preview of the new customer portal shows how to do it. e-connect reduces inconvenient waiting times and eases the administrative process. In the case of spare parts, for example, Engel customers are able to check prices and availability online.
All Engel machines and manufacturing cells are stored in the system and can be displayed showing their current status. For the best possible overview, users can organize their machines the same way they are managed on site. Production systems can be assigned to different halls or departments online.
Status of critical components available online
Now that the new e-connect.monitor smart service solution has been integrated into the customer portal, the status of critical machine components is available online as well. Condition-based predictive maintenance makes it possible to utilise the full service life of machine components while avoiding unscheduled system downtimes. To ensure this, the condition of components is monitored by sensors, measurement data is analysed using mathematical models developed by Engel, and the remaining service life of components is calculated. At the K Show, Engel will present two modules of this new solution - one for screws and the other for spindles. The condition of screws is assessed in the course of regular field service, while spindles are monitored continuously and automatically in the machine. In both instances, the resulting data and analysis are stored on the e-connect platform, where they can be processed by the customer.
e-connect.monitor is part of the inject 4.0 programme, which Engel uses to assist clients meet the challenges of the fourth industrial revolution head-on. Engel is continually developing new products and services for the smart factory. The new version of the e-connect portal is ideally equipped for handling additional requirements of ongoing digitisation, whenever they may arise.
Customers and Engel on the same page
Service requests (to replace a machine component, for example) can be sent directly to Engel via e-connect. This is not only highly convenient for users, but also speeds up order processing. As soon as the request is placed, it will be sent automatically to the responsible service team, and processing can start without delay. The fact that Engel service technicians use the same database means that the customer and the Engel team always work with the same information. The service technicians can access the machine/system history, which helps them find a solution faster. Every service order is fully documented in e-connect.
In addition to new functions, the Engel customer portal offers more transparency and even simpler navigation. Engel customers have 24/7 access to a variety of useful information, from product descriptions and upcoming events, to details of their Engel contacts. A calendar shows scheduled on-site service and sales visits, booked seminars and more. Moreover, the Engel e-learning platform is just one click away from e-connect.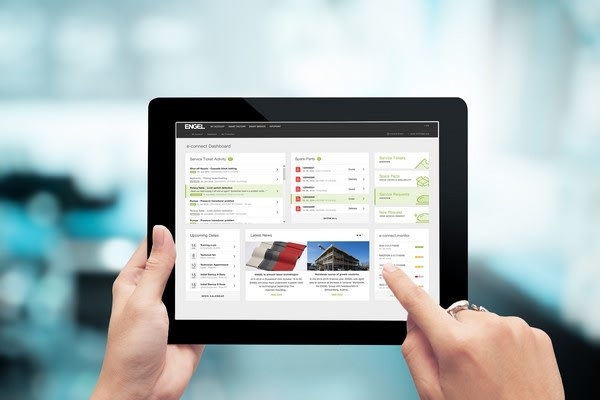 Engel at K 2016: Hall 15, Stand C58