From 16 to 19 May, will present latest injection molding technology for the plastics industry to trade visitors at the Chinaplas in Guangzhou, the largest plastics fair in the Asian region, at booth 4.1C01.
Asia is one of the most important markets for the Wittmann Group next to Europe and North America. More than 10 years ago, Wittmann opened a local production facility in that region in addition to its own sales organization. At its Kunshan production plant, robots, temperature controllers, material loaders and granulators are manufactured primarily for the Asian market.
At this year's Chinaplas in Guangzhou, Wittmann Battenfeld will demonstrate its injection molding technology expertise with three machines from its PowerSeries. These are an all-electric machine from the EcoPower Medical series, a servo-hydraulic SmartPower Combimould machine and a MicroPower. One of the highlights will be the new UNILOG B8 control system. UNILOG B8 runs on the Windows 10 IoT operating system; it continues to offer the proven features of UNILOG B6, but provides numerous additional functions and more user-friendliness. A combination of soft keys and gesture command, the comfortable SmartScreen, on which two functions can be displayed and operated simultaneously with a split screen, and the "easy start" program of parameter setting via QuickSetup are just a few.
With an EcoPower SE 110/350 in the medical version, Wittmann Battenfeld will present its medical technology competence at the Chinaplas. In this complete clean-room production cell, equipped with a Laminar Flow Box supplied by Max Petek, Germany, a closing cap will be manufactured from LDPE in an 8-cavity mold. The parts fall freely onto a conveyor belt inside the clean room.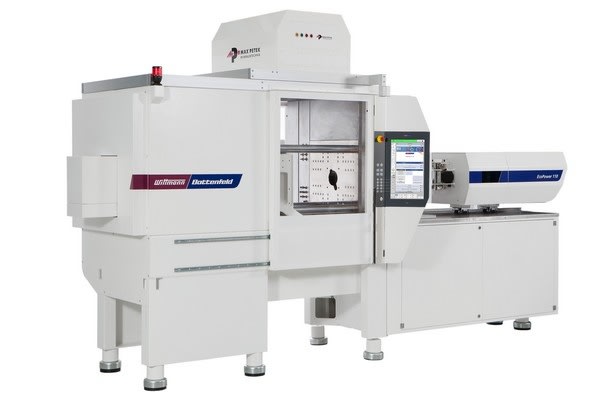 The second machine on display will be the Combimould version of a servo-hydraulic machine from the SmartPower series. This machine was shown for the first time at the K 2016 in Düsseldorf. The standard models of the SmartPower series are available with clamping forces ranging from 25 to 350 t, and since the autumn of 2016 now also as multi-component models.
On a SmartPower 180/525H/210L, a drinking cap made of thermoplastic and liquid silicon will be manufactured with an 8-cavity mold supplied by ACH Werkzeugbau, using transfer technology. Parts removal and depositing will be handled by a W832 pro Wittmann robot.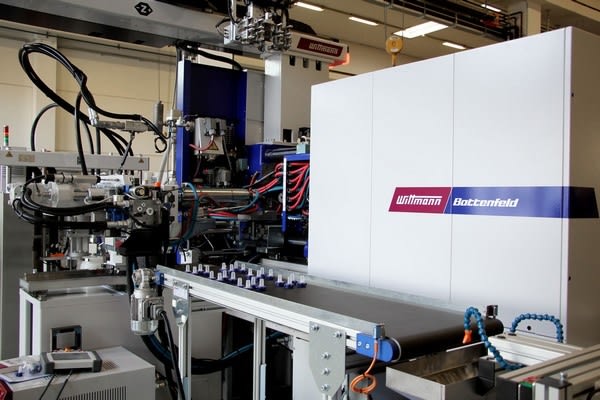 A machine from Wittmann Battenfeld specially designed for injection molding micro parts will also be shown at the Chinaplas. On a MicroPower 15/10 the company will show an opto-electronic application. A barrel holder made of POM will be produced with a mold supplied by Wittner, Austria. This component is a focusing device used mainly in cameras to hold the lenses in place or to focus them. The internal thread of the barrel holder is produced with the help of a threaded core operated directly via the ejector of the injection molding machine. This means that the threaded core is unscrewed directly inside the mold, before it is removed by a Wittmann W8VS2 robot specially designed for this machine model, then presented to a camera integrated in the production line and the machine's control system for quality inspection, and finally deposited in a collecting box separated according to cavities. The production process is realized under clean-room conditions achieved by means of a Laminar Flow Box inside the machine.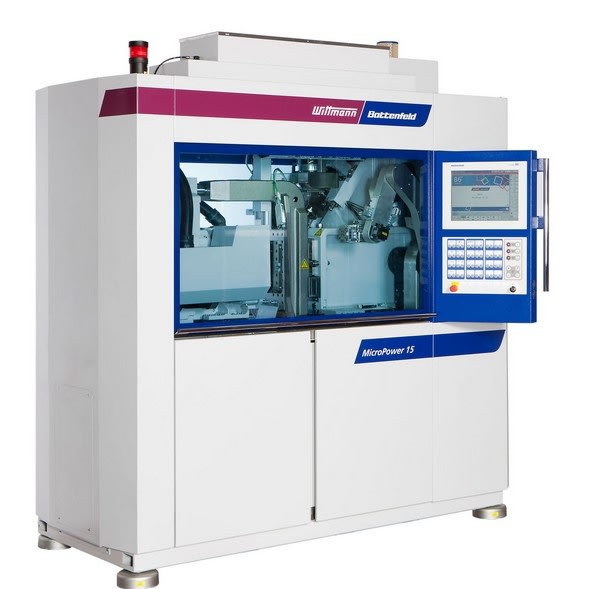 In addition to the above-mentioned processing machines, Wittmann Battenfeld will demonstrate in a clear, easily understandable way how robots and peripheral appliances can be integrated into the new B8 machine control system. On an interactive display board, visitors to the fair will have an opportunity to test for themselves the advantages of this solution for the challenges of Industry 4.0, now also known as Wittmann 4.0.