The Austrian injection moulding machine manufacturer, Wittmann Battenfeld GmbH, is demonstrating the high performance capability of its toggle series TM at this year`s Plastpol in Kielce, Poland. The application can be seen in action in pavilion C, stand 109. This year marks the 12th edition of Plastpol, which has become the biggest and most important trade fair in the aspiring Eastern European plastics market.
At this year`s Plastpol in Kielce from 27th to 30th May, Wittmann Battenfeld will be presenting a model from its TM rapid-action toggle series. The production of sealing caps made from HDPE for the packaging industry will be demonstrated on a TM 270/1350 S with 270 t clamping force. The parts will be produced in a 48-cavity mould from KTW (Waidhofen a.d. Thaya, Austria).
The 2.2 g sealing caps will be produced in free fall in a cycle time of about 4.9 seconds. The exhibition unit is equipped with a servo motor for parallel dosing and a hydraulic accumulator including charge pump for rapid injection.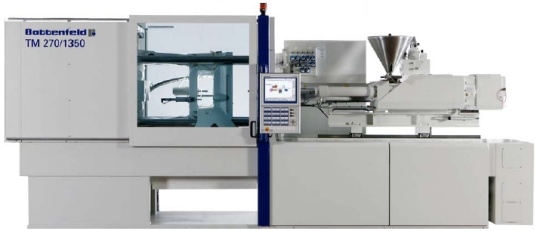 The cooling device that handles the cooling - a Coolmax C250 from Wittmann Kunststoffgeräte - has been specifically matched to the requirements of the mould. Ranging in size from 110 - 500 t, the TM series from Wittmann Battenfeld offers an exceptionally high degree of flexibility thanks to its choice of 6 clamping force sizes, 9 injection units and 11 different screw diameters. The robust 5 point toggle design features optimised force development and balanced force distribution as well as highly precise closing movements.
The injection unit guarantees the highest possible degree of reproducibility by virtue of its compact construction with integrated injection block and the screw which is driven directly by a hydraulic motor - or by a servo motor as an option.
The machine is equipped with the latest generation UNILOG B6 control system, which makes operation more convenient than ever. High-performance functions are available - in the process documentation area, for example, or for the control of complex manufacturing processes as well as extended network capabilities. The Windows XP-based operating system of the UNILOG B6 provides the ability to connect directly to the Internet, thereby enabling full use of the online service and preventive maintenance options.