Plastics processors GRAF from Teningen recently commissioned a two platen ENGEL machine with a clamping force of 55,000 kN and three injection units for the production of underground tanks and logistics containers. ENGEL has broken all previous records with this development. The duo 5500 not only supports shot weights of up to 140 kg with its three injection units, but is also very economical with its extremely low energy consumption.
About three years ago, ENGEL was asked to take on a very special task; the development of an injection moulding machine for shot weights of up to 150 kg. The results are impressive: an ENGEL duo 5500 with a clamping force of 55,000 kN combined with three parallel action injection units with a screw diameter of 260 mm each deployed in the production of the 6,500 liter Carat underground tank by GRAF.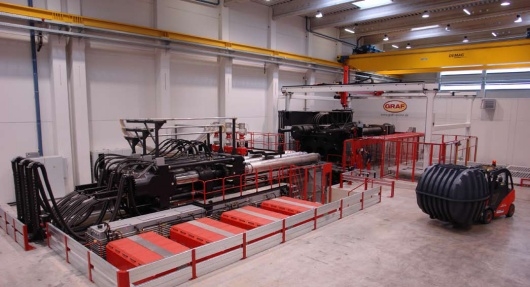 The 25 meter injection moulding machine has a total weight of 585 tons. Add to this the mould weight of up to 160 tons. Due to its size the machine had to be sunk two meters into the ground. These parameters make the machine the world`s biggest injection moulding machine of its kind. And with a specific energy consumption of just 0.34 kWh/kg under production conditions, the machine achieves record breaking savings. All told, an extraordinary project that once again demonstrates ENGEL`s competency in system solutions.