The 1000th Gravicolor dosing and mixing system handed over to
LEGO
in Mexico in a ceremony
The so far largest single order in the history of injection moulding ancillaries continues to grow. In September 2011, as part of the production inauguration ceremony at the LEGO plant in Monterrey, Mexico, the 1000th Gravicolor dosing and mixing system was ceremonially handed. Initially, motan-colortronic supplied the fully automated and centrally monitored raw materials handling system for the LEGO production location Monterrey – from 24 silos right to the material feeding zones for the 700 injection moulding machines. This massive first order was commissioned in April 2011 with outstanding success. This was the reason why LEGO awarded follow-up orders to motan. An order for a further 100 Gravicolor systems extends the project into the spring of 2012.
The carpenter Ole Kirk Kristiansen founded his company LEGO in 1932, still owned by the family and with Kjeld Kirk Kristiansen at the helm today. His grandfather asserted his conviction "det bedste er ikke for godt", translated "only the best is good enough". This motto, not just relevant to the product quality, but also to ethical base values, is still the guiding principle of the LEGO Group to this day.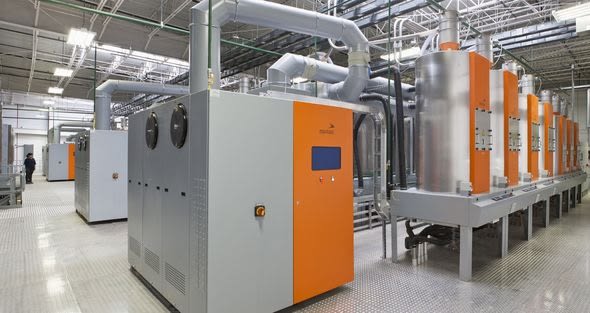 On January 28, 1958 Godtfred Kirk Kristiansen, son of the company's founder and then CEO of LEGO, registered the patent for the legendary plastic building blocks. Today, the LEGO Group manufactures 3,900 different types of building blocks in 58 colours, with more than 915 million different combination possibilities.
The company has changed over the past eight decades – a small joinery has grown into a modern globally established company, now the third largest toy manufacturer in the world. Today, the LEGO Group's colourful building blocks and teaching materials for children are available in over 130 countries. All LEGO toys are manufactured in company-owned factories in Denmark, Hungary, the Czech Republic and in Mexico. Thus the organization can guarantee a constantly high quality of all the raw materials and products and can contribute to increased safety in the toy sector.
In the presence of all the most important project partners, the production facility in Monterrey, Mexico, was officially opened by the LEGO owner Kjeld Kirk Kristiansen in a special ceremony on September 30, 2011. As part of the ceremonies, motan-colortronic officially handed the 1000th LEGO-specific Gravicolor dosing and mixing system which was desired to look like a tower entirely constructed of LEGO building blocks.
This unit completes the major order of the entire injection moulding periphery, awarded to motan-colortronic by the Danish toy manufacturer in June 2010. Ulrich Eberhardt, CEO of the motan Group reflects: "This unique project was a challenge for us, as – there is no doubt – 50 large containers are not sent to Mexico every day. The inauguration today confirms that we have fulfilled the trust placed in us as partners.