With a larger screw cap and low opening force, Tetra Brik Edge is easy to use whether you are young or old
Tetra Pak today announces the global launch of Tetra Brik Edge, the packaging solution for chilled liquid dairy products designed for consumers of all ages, from children to elderly consumers.
- Tetra Brik Edge is so user-friendly that even consumers with hand disabilities, such as arthritis or injuries, found it easy to handle, open and pour - said Leif Hansson, development manager, The Swedish Rheumatic Association (SRA).
The 34 mm diameter SimplyTwist screw cap on Tetra Brik Edge requires a low opening force, designed to be easy to open, pour and reseal for everyone. The large diameter of the closure is also ideal for smooth pouring of thicker dairy products such as cultured milks and drinking yoghurts as well as milks and flavoured milks. The angled top makes it easier to grip the cap, there is more space for the hand and fingers and, when pouring, the latest addition to the best selling Tetra Brik range doesn't need to be lifted high.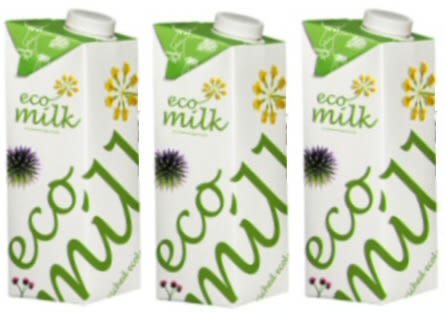 In addition to the consumer research normally conducted when developing new packages, Tetra Brik Edge was tested and developed according to the SRA's internationally renowned methodology. In recognition of the excellent performance of the new package to those with limited hand function, Tetra Brik Edge has been designated "Package of the Year" by the SRA.
The functional benefits of the sloping top panel and package's shape add an eye-catching appeal to Tetra Brik Edge, making it an excellent vehicle for branding. The sloping top provides extra space for additional messages. The package's higher top edge also acts as a support and facilitates stackability. For example, when stacked in a returnable roll container, the top of the Tetra Brik Edge package fits into the bottom folds of the package above it in a jigsaw effect. This results in an efficient use of space, allowing four layers to be stacked.
Tetra Pak also developed an easy-to-carry, eye-catching distribution/display unit for the Tetra Brik Edge. This shelf-ready packaging uses approximately one third less material than those used for other similar packages and can be placed directly in the chiller, minimising labour and stock cost in the supermarket. Because the brand can be printed directly on the package, it is easier to identify in the warehouse which facilitates stocking products on the shelves.
Milch-Union Hocheifel eG, which has been the UHT-milk market leader in Germany for four decades, chose Tetra Brik Edge 1000 ml to enter the chilled dairy market in October. 2008. The package is currently being distributed by German discounters Aldi and Lidl as well as other European retailers.
- With its distinctive look and consumer usability, Tetra Brik Edge is the perfect carton from a consumer's perspective and, for dairies, it is highly efficient in terms of production and distribution costs - said Winfried Meier, director of sales and marketing, Milch-Union Hocheifel eG.
Tetra Brik Edge is produced at a capacity of 7000 p/h on the Tetra Pak C3/Flex XH packaging line, providing a cost-effective production solution, ideal for both larger.