Arburg will present the cost-efficient automated manufacturing of quality parts at Swiss Plastics 2017, to be held in Lucerne (Switzerland) from 24 to 26 January 2017. An Allrounder 470 E Golden Electric from the new electric entry-level machine series will produce a connector as an example of a technical moulded part for the electrical industry on the Arburg stand C1061 in Hall 1. Thanks to its consistent standardisation, the machine offers an excellent price/performance ratio. A Multilift Select linear robotic system will perform the handling tasks.
"Our customers in Switzerland are increasingly turning to electric injection moulding technology. Most of the machines we supply have electric drives," explains Marcel Spadini, Arburg Subsidiary Manager in Switzerland. The high-end machines are available for high-performance and special applications in the shape of the high-end electric Alldrive series, which can be adapted individually to the application at hand. Arburg also introduced the "Golden Electric" machine series onto the market in spring 2016 to enable cost-efficient entry into electric injection moulding manufacturing. Like their successful "Golden Edition" hydraulic counterparts, the new electric machines offer an excellent price/performance ratio thanks to consistent standardisation, e.g. a fixed combination of distance between tie-bars, clamping force and injection unit size.
High-performance, precise, energy efficient
The Allrounder Golden Electric is available in four sizes with clamping forces from 600 to 2,000 kN.
The double five-point toggle ensures fast, high-performance cycles. The play-free spindle drives operate with high precision. The position-regulated screw ensures high moulded part quality.
The new electric machine series also features liquid-cooled motors and servo inverters and also offers benefits in terms of energy efficiency, short dry cycle times and high reproducibility. Compared to hydraulic standard machines, the high efficiency of the servo motors, continuous power adaptation and energy recovery during braking achieve energy savings of up to 55 percent. The machines are also easy to maintain thanks to swivelling injection units, plug-in cylinder modules and further improved lubrication and cooling.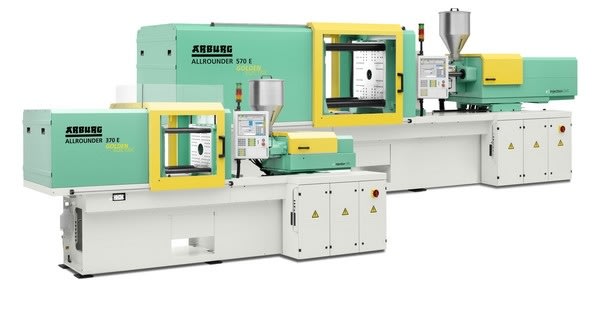 Ideally suited to high-quality technical parts
The entry-level electric machines are mainly used in the cost-efficient and reproducible manufacturing of high-quality electric parts. Arburg will demonstrate this at the Swiss Plastics 2017 with a PP moulded part for the electrical industry: an Allrounder 470 E Golden Electric with a clamping force of 1,000 kN and a size 290 injection unit will produce 16 connectors for size M12 Skintop screw fittings in a cycle time of 18 seconds. These fittings are used to fasten, centre and seal cables and also include a strain relief feature. The moulded part weight is two grams. A linear Multilift Select robotic system will perform the handling tasks.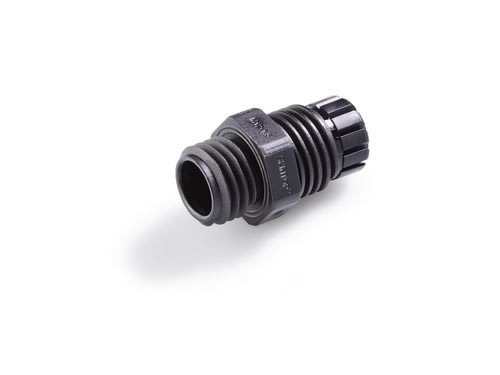 Cost-efficient automation solution
The Multilift Select is the entry-level model among the linear robotic systems from Arburg. It features servo-electric drives and is fully integrated in the Selogica machine control system. For the operator this means: only one data set, a familiar approach during programming and perfect synchronisation of robotic system and machine. Moreover, the teach-in function means that the Multilift Select is extremely easy to program. The advantages of this strategy are evident. Programming times and conversion procedures are efficiently shortened, handling sequences are more reliable overall and training expenses are much lower.