Over 6,700 guests from 53 different countries once again made the Arburg Technology Days, held from 15 to 18 March 2017, the biggest in-house event in the industry. There was much more to be seen at the company's 171,000 square metre headquarters in Lossburg (Germany) than at most trade fairs. The presentation included more than 50 exhibits in action, the Efficiency Arena under the motto of "Industry 4.0 in practice", turnkey injection moulding solutions, the new Arburg Prototyping Center for additive manufacturing with the Freeformer, as well as a special service area. Trade visitors also found further inspiration in specialist presentations and factory tours.
ARBURG TECHNOLOGY DAYS 2017 - PHOTO REPORT
The Arburg Technology Days 2017 attracted over 43 percent of its visitors from abroad. The largest contingencies from overseas were North America with over 170 visitors and China with around 125. The largest numbers of European guests were brought along by the subsidiaries Switzerland (around 210), Czech Republic (around 180) and France (around 160).
"For our annual Technology Days, we do everything we can to ensure that our invited guests get a comprehensive insight into the Arburg product range, trends in plastics processing and innovative applications. The unique industry event involved a large number of employees and trainees. Our customers really appreciated the unique atmosphere, made great use if the opportunity to talk with our experts and, at the end of the day, took away some key ideas for their own production," summarises Michael Hehl, Managing Partner and Spokesperson for the Arburg Management Team.
Highlight - the Allrounder 1120 H
There was a great deal of interest among the public in the new hybrid Allrounder 1120 H, which extends product and services into a clamping force range of up to 6,500 kN. Visitors to the Technology Days 2017 had the opportunity to take a closer look at the new large machine with its new design and visionary Gestica control system following its premiere at the K 2016 leading international trade fair. As part of an innovative turnkey solution, the exhibit produced ready-to-use folding step stools in an exclusive Arburg design. This involved producing eight individual parts using an eight tonne family mould in a cycle time of around 60 seconds and then assembling them ready to use in a combined set-up with a Multilift V 40, six-axis robot and assembly station.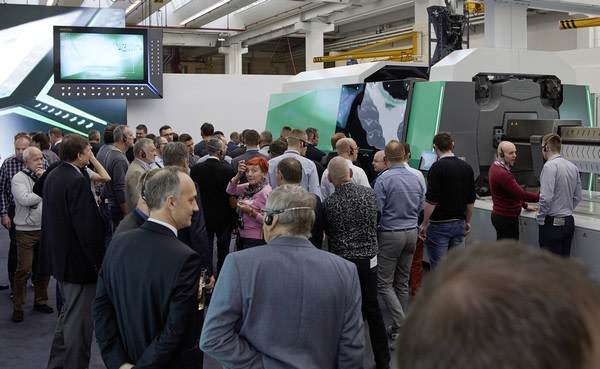 "Industry 4.0 in practice"
The Efficiency Arena was also very well received. Here, Arburg and a number of selected partners showed practical and pragmatic examples of the implementation of Industry 4.0. Customers were offered a host of different perspectives on how to implement Industry 4.0 and make their own production more efficient. A pioneering practical example was the spatially distributed, digitally networked production of "smart" luggage tags in single-unit batches. An Allrounder injection moulding machine and two Freeformers for additive manufacturing were combined for this purpose. The Arburg host computer system (ALS) ensures end-to-end traceability for each individual part. Two ALS add-on modules were also presented: "Energy Visualisation" for order-based allocation of energy data and "Material Staging Interface" for batch changes.
Other topics covered in the Efficiency Arena were the traceability from finished part to the original granulate, online monitoring for quality assurance purposes, systematic energy consumption records and the integration of peripheral equipment in the Selogica machine control system.
Eight Freeformers in action
A total of eight exhibits relating to Arburg Plastic Freeforming (APF) were on view, five of them in the new Arburg Prototyping Center. The focus here was on the industrial additive manufacturing of functional parts, either individually or in small batches - including grippers made from PA and TPE, mobile phone covers with optimised surfaces and parts made from a PC approved for use in the aerospace industry. In addition, flame-proof electronic parts and implants from medical-grade PLA were also presented. Another Freeformer in the Customer Center produced mechanically optimised rope pulleys from organic polyamide. The two exhibits in the Efficiency Arena individualised the "smart" luggage tags.
Diverse applications
The broad range of injection moulding machines included pioneering machine and mould technology, a wide range of products and applications, as well as innovative processes for the efficient production of plastic parts.
In the medical technology area, Arburg showed five applications and different clean room concepts, including a GMP-compliant stainless steel electric Allrounder 370 A as a high-end injection moulding solution which produced long-term PEEK implants in a clean room environment. The performance capabilities of the Hidrive series for the packaging industry were demonstrated by an Allrounder 570 H in a Packaging version specially configured for thin-walled parts. The production cell produced four IML tubs from PP in a cycle time of less than two seconds.
Arburg presented Fibre Direct Compounding (FDC) and Profoam physical foaming technology based on the example of two automotive applications. As well as reducing weight, these processes can also be used specifically to improve mechanical part characteristics and minimise distortion, as was demonstrated with a glass-fibre reinforced cable drive housing for power windows and a foamed base plate.
LSR/LSR wristwatches required complex manufacturing processes and set the standard for what can currently be achieved in the processing of liquid silicone. The associated turnkey system based on an electric two-component Allrounder 570 A that produced two-colour LSR wrist bands fully automatically. Assembly as a ready-to-use wristwatch took place within the injection moulding cycle.
A highlight in the area of powder injection moulding was the world's first MIM frame for smartphones. A hydraulic Allrounder 470 C Golden Edition processed feedstock from BASF to produce a green compact in an Arburg design with a thickness of only 1 millimetre and a length of 136 millimetres.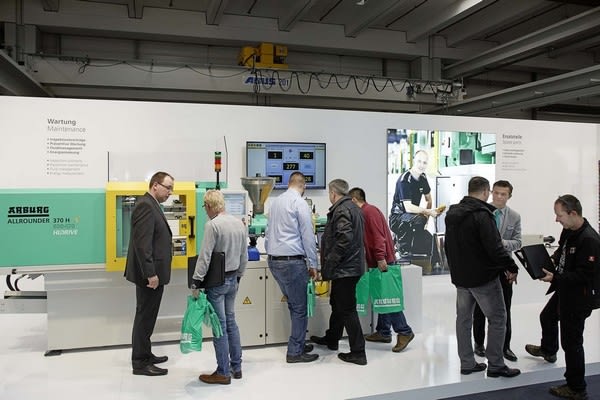 Spacious turnkey area
The well-equipped turnkey area had everything, from simple pickers and linear Multilift robotic systems to a six-axis robot featuring the Selogica user interface and customised turnkey systems. Highlights included the fully automated production of ready-to-use step stools and LSR/LSR wristwatches, the "playing field" for robots in action and the new Multilift V 40 with a load-bearing capacity of 40 kilos. A number of current customer projects were also presented - from the hydraulic Allrounder 520 S with Multilift Select to the hydraulic two-component Allrounder 920 S with six-axis robot and downstream station with Agilus robot.
Comprehensive programme of side events
In the service area, visitors were able to find out about topics such as Industry 4.0, preventive maintenance and the current training offerings.
Over 2,000 participants attended the informative specialist presentations in German and English. Here, some of the company's experts spoke about lightweight construction, Arburg Plastic Freeforming and turnkey solutions. External specialist presentations covered topics such as Industry 4.0 and the strong partnership that Arburg offers from the customer's perspective.
Almost 1,500 visitors from Germany took the opportunity afforded by the factory tours to become familiar with machine production. Furthermore, the company was also presented to all international groups visiting the Technology Days with their Arburg subsidiaries and trading partners in their respective national languages.