For the packaging relaunch of the sausage snack Knacki Ball, Herta France, an affiliated company of the Nestlé Group, has relied on the know-how from the Greiner Group.
Since October 2008, eleven flavours of the appetising mini sausages have been filled in cups from Greiner Packaging. Tobias Strasser, Product-Group Director for k3 products, pinpoints the major benefits of the new packaging: - The Knacki Ball cup provides space for a filling volume of 400cm? and combines plastic material with cardboard. At the same time, it matches ecological advantages with a high degree of convenience and a shiny look.
Herta Knacki Balls are ball-shaped mini sausages and suit the modern lifestyle. They can be consumed as a snack or as a full meal. Sausage-lovers use them up cold - directly from the refrigerator - or hot.
There are two ways of heating Herta Knacki Balls: They can be cooked in hot water for four minutes or in the microwave for one minute together with the packaging. For heating in the microwave, the properties of the cup play a major role. The insulation properties and the surface feel of the new packaging meet stringent criteria provided by the cardboard wrap and a special foil wall thickness of 1.7 millimetres.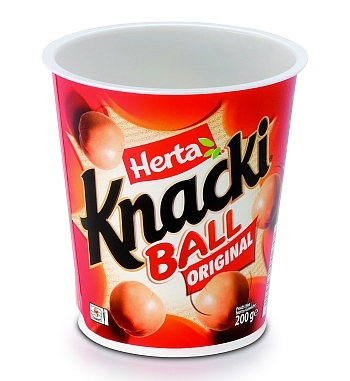 Snacks are increasingly consumed by people on the go. The new cup has a diameter of 95 millimetres and exactly fits the volume of the modern cupholders, which are being incorporated into more and more car interiors. The cardboard wrap is decorated with brilliant print images using offset printing technology, which provides for an attractive look. The cardboard can be easily separated from the PP plastic cup with a new flap, which can be torn open from beneath. This promotes environmentally-friendly disposal.
The new packaging of Herta Knacki Balls is closed with a plastic seal. An injection-moulded lid decorated using IML provides for resealability, should the 28 sausage balls be eaten in several portions. Herta Knacki Balls are produced in eleven flavours and are available in various European countries. The wide range of its flavours starts with the classic bockwurst and includes cheese sausages and blood sausages (also called: black pudding) as well as new variants, such as pizza or barbecue.