Environmentalists threaten global warming. Easy to believe them in some place on the globe this winter. No snow, no frost ... Fortunately with artificial ice rinks smile on the faces of winter sports enthusiasts is restored. The fact that the ice rink is ecological causes us a wider smile.
Plastic polymer material (polyolefin with additives) that constitutes synthetic ice is used by Xtraice to create a rink which doesn't melt. What is so special about the ice rink, which distinguishes it from 'normal' synthetic ice rink? Its ecological characteristics have been brought a different way of looking and thinkg about ice.
Xtraice comes from Spain in the form of panels consist of non-toxic and recyclable products. It can be installed anywhere: in parks, hotels, amusement centres. There is no need to keep Xtraice in a cold environment. Moreover, there is no need to use energy or water. To maintain eco-ice is necessary just to keep the surface clean with using an industrial vacuum and coat with a glide solution every 7 to 10 days (depending on use).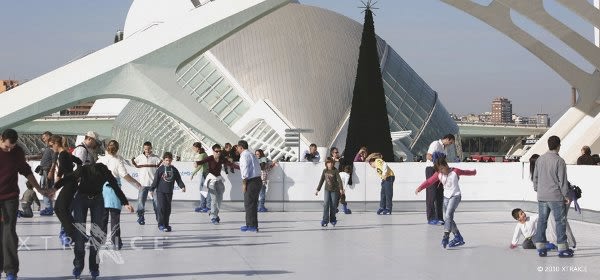 Source: Xtraice
The company obtains two certificates that confirmed the efforts to implement quality and ecological way of thinking during developing of Xtraice: ISO 9001 and environment certification ISO 14001. "(...)obtaining both certificates, this puts XTRAICE again at the forefront of eco-ice companies, being the first to achieve this and it confirms the demanding work that has been developed over several years, and that aims to offer an innovative and ecological high-tech solution", Francisco Ortiz, president of Xtraice commented on these events.
Another form of recognition can be found in the installation of Xtraice for the world-renowned organizations connected with ice skating: Disney in Disneyland Paris, NHL professional team in the US, Redline High Performance Hockey Center. Over 150 Xtraice rinks are located in 36 countries, among them Japan, USA, Canada, UAE, Mexico, Norway, Germany, Sweden, France or Italy.