180 visitors from 27 countries are most convincing evidence to show that the eighth AMI Wood Plastic Composites Conference in Vienna was again able to defend its reputation as an international meeting place of the global
WPC
industry.
Traditionally, the highlights of this event also include the live demonstration of a WPC extrusion line at the technical lab of battenfeld-cincinnati, the event's main sponsor.
The current outlook for the WPC industry is positive in every re-spect, the mood is optimistic, and this is certainly due to the very promising sales figures forecast for the next few years. According to the market research study carried out by AMI Consulting, Bris-tol/UK, which was presented during the conference by Jon Nash, Head of Strategic Research at AMI, annual growth rates of up to 22% are expected until 2013. The largest growth rates are ex-pected for applications in the building construction and interior finishing segment. Decking will remain the most wide-spread WPC application in the global market. This was also confirmed by Ronald Kaplan, CEO and President of TREX, Winchester/USA, whose company is currently exploring further optimization potentials con-cerning aesthetics, performance and eco-friendliness.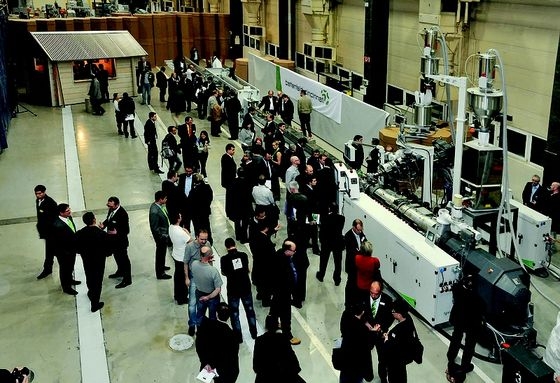 The WPC coextrusion line shown at battenfeld-cincinnati's technical lab in Vienna produced a 7-chamber decking profile at a line speed of 2.25 m/min, which is the equivalent of about 400 kg/h. This decking profile is not only optimally geared to the growth market, but also offers the benefit of up to 25% in material cost savings compared to profiles wholly made of virgin materials, thanks to its inner layer consisting of reclaim material. Both the compound and the die for this 160 x 30 mm profile were provided by the partner company Beologic N.V., Sint Denijs (Zwevegem)/Belgium.
The core components of the extrusion line were the main extruder, a fiberEX92, and the fiberEX38 coextruder, arranged in the ex-tremely compact "space saver" configuration. The downstream components, such as the haul-off and the cutting saw, also came from battenfeld-cincinnati, from their well-known baseBEX series. The line was completed with material loading equipment from Woywod Kunststoffmaschinen GmbH & Co. Vertriebs-KG, Gräfel-fing/Germany, and gravimetric feeding units from Brabender Technologie KG, Duisburg/Germany and ConPro GmbH, Porta Westfalica/Germany.
Another partner company, Deltawood, from Rijssen in the Nether-lands, simultaneously presented a new composite exhibition home at battenfeld-cincinnati's technical lab. With this modular "Simply Housing" concept, designed for do-it-yourself applications especially in disaster areas, the company demonstrated an innovative field of application for WPC profiles. In addition to metal reinforcement in load-bearing elements, the structure was provided with maximum strength primarily by targeted orientation of the wood particles inside the WPC profiles.
The predominant optimism and generally gratifying growth rates in the WPC industry also had a positive effect on battenfeld-cincinnati's current fiscal year. In 2011, the machine manufacturer realised its second-best result ever in the WPC segment and was able to strengthen its position of market leadership in Europe and Asia.