Application-specific solutions for multi-component injection molding
KraussMaffei is the global leader in multi-component injection molding. "With the Multinject technology based on the CX, GX, and MX series we cover the market as the only provider of small, mid-size, and large clamping force options from 350 to 55,000 kN", says Golz. Three new variants have been added to the twin-platen injection molding machines in the KraussMaffei GX series: the new GXH, GXL and GXV offer optimal prerequisites for multi-component injection molding and add to the GXW (SpinForm reversing plate technology), which was successfully introduced into the market at K 2013. Another highlight is the new integrated turntable. A servo-electric drive unit ensures especially fast rotations, parallel movement and precise positioning.
Depending on requirements and product the customer can select suitable positioning of the injection units and the optional turntable. The H in GXH stands for the symbolic arrangement of two or more injection units in parallel. "Through the horizontal arrangement the melt is guided directly into the respective mold-half. This way, so-called dead corners in the hot runner are reduced", says Mitzler. Additional advantages of injection units arranged in parallel are the simplified mold design and space-saving design of the entire machine. Typical end applications of GXH are found in the manufacture of technical and optical vehicle components. 2-component screw-cap closures for the packaging industry can also be produced efficiently. Advantages of the GearX locking mechanism and the GuideX guide shoe developed by Krauss Maffei are apparent in fast cycle times with minimal energy consumption.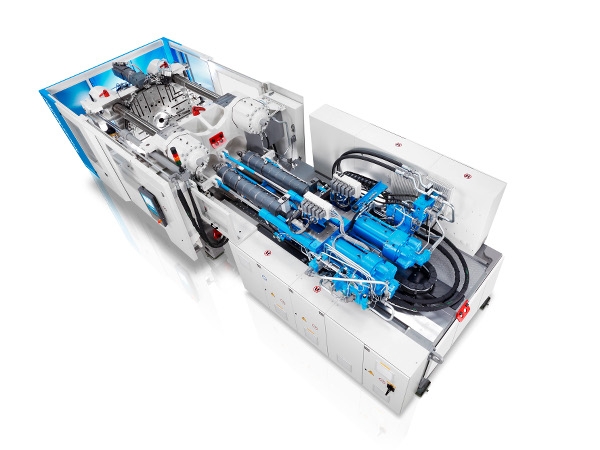 The L in GXL on the other hand stands for the lateral horizontal positioning of the second injection unit. Thanks to the modular design of the GX series, small and large shot weights can be implemented. Third in the group is the new GXV with vertical positioning of the second injection unit, which allows access to the main injection unit. The V injection unit can be moved entirely out of the clamping unit area for the mold change to substantially improve accessibility.
Rigid-flexible pairings, color soft-touch surfaces, functional integration and the combination of various colors and plastics, such as thermoplastics, elastomers, and polyurethanes, are possible with the new GX series multi-component injection molding machines from KraussMaffei. Not only two, but up to four different components can be processed. "The requirements of multifunctional components consisting of three or more materials continue to increase. The modular configuration of additional injection units make 3- or 4-color machines an easy possibility. All units are controlled centrally by the KraussMaffei MC6 control system", Mitzler adds.