With repair costs from motorboat propellers striking submersed objects running up to several thousand dollars for complete lower unit rebuilds, Brad Stahl knew there had to be a better solution. His intuition led him to start Piranha Propellers of Jackson, Calif., which manufactures and sells replacement propellers featuring interchangeable blades made from long fiber composites as an alternative to traditional metal propellers.
For his latest iteration, a propeller for houseboats and service barges that offers improved reverse thrust capabilities he again turned to longtime partner and compounder PlastiComp of Winona, Minn., for a long glass fiber reinforced thermoplastic composite that was up to the performance challenge.
Interchangeable Design
Piranha's unique composite propeller design consists of a center hub with three or four slots for inserting interchangeable blades of varying size and pitch.
Easily changing a damaged or broken blade instead of the entire prop lowers ownership cost; interchangeability also allows tuning of propulsion thrust to meet a boats intended use, for either speed or transporting loads.
When a metal propeller blade strikes a submersed obstacle, it can permanently bend or break, with severe impact forces often causing additional costly damage to the motors lower unit.
With a Piranha composite propeller, the blades flex and absorb the energy from minor impacts. At higher impacts, the blades, which have lower shear strength than metal, sacrifice themselves by breaking and releasing energy before transferring damaging forces to the motors lower unit.
Lower unit repairs can cost up to several thousand dollars, making a $25 composite replacement blade a considerable cost saver, according to Stahl.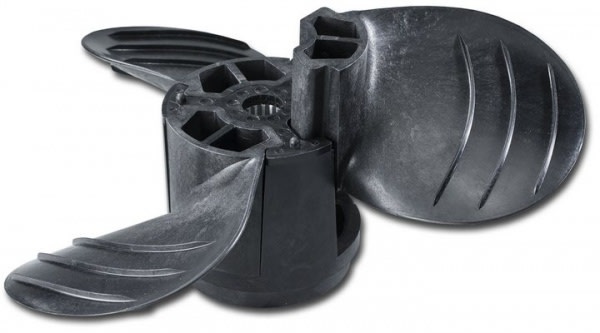 Hydrothrust Propeller
Piranha's latest propeller iteration for houseboat and service barges improves reverse thrust. "When the wind kicks up a houseboat can quickly become difficult to maneuver," said Stahl. "We do a lot of sales to the rental market, and it doesn't take much for inexperienced people to have difficulty because reverse thrust performance is significantly lower. Propellers are designed to push, not pull."
The innovative blade design of Piranha's Hydrothrust propeller provides 400% more reverse thrust than standard propellers and twice as much as competing metal props," said Stahl. "In testing, our Hydrothrust propeller produced 650 pounds of thrust in reverse with virtually no change in forward performance."
"Whether backing a houseboat off a beach or maneuvering around docks, especially when there is wind in the picture, Hydrothrust provides a real boost in safety by increasing controllability," he said.
Other enhancements Piranha is able to offer include Hydrobites, small flow fences on propeller blades that control water flow and reduce turbulence vibration. "Injection molding with long fiber composites makes it easy to add feature details like our Hydrobites that would be difficult and expensive to produce in metal," said Stahl.