Extrusion Technologies
Milacron both designs and builds full extrusion systems in house. Milacron's breadth of extrusion offerings is all encompassing, from extruders, to new and rebuilt extrusion barrels and screws, to pipe heads, dies and downstream equipment. Milacron provides powerful, reliable solutions that meet customers' unique needs. Milacron's extrusion solutions are highly customizable and increase productivity, output and accuracy, while reducing costs.
Milacron Hot Runner, Process Control Systems and Mold Component Booth - E4 H31
On display at the Milacron hot runner and mold component booth will be technologies from Milacron's industry leading brands, Mold-Masters and DME.
Mold-Masters Hot Runner and Process Control Systems
Mold-Masters Summit-Series Hot Runner - New line of premium hot runners, climbing to new heights.
The Summit-Series is Mold-Masters' new, premium hot runner line. The new hot runner nozzle has four times less thermal variation from set point, compared to the typical thermal variation seen in a nozzle with a heater band. The Summit-Series hot runner is built completely from stainless steel, which makes it ideal for molding shear and temperature-sensitive resins like PC, POM and PBT. The nozzle profile positively affects balance and is especially effective for medical market molding where precision is paramount. The Summit-Series can also be ordered with new servo-controlled valve-gate actuators, which allow for individual speed, time and position control of each valve pin in the mold. The Summit-Series is clean room-ready and is the perfect hot runner solution for any molder looking to reduce risk and optimize molding process parameters with minimized variance and strong, repeatable results.
Mold-Masters Fusion G2 Automotive Hot Runner
The new Fusion Series G2 drop-in, single point connection design ensures easy installation, faster start-ups, reliable operation and user-friendly maintenance for medium and large part molding applications.
Highlights include:
Screw-in, slim profile nozzles.
Multiple heater zones per nozzle for optimized thermal profile field.
Replaceable nozzle heaters.
Integrated leak proof protection.
Completely pre-assembled and pre-wired.
Quick access to spare parts due to modular standard components.
Mold-Masters Automotive Lens Hot Runner
With standard components and drop-in features the Mold-Masters Lens hot runner system ensures faster delivery time, easy installation, quick start-ups, and user-friendly maintenance. The clear choice for automotive lenses.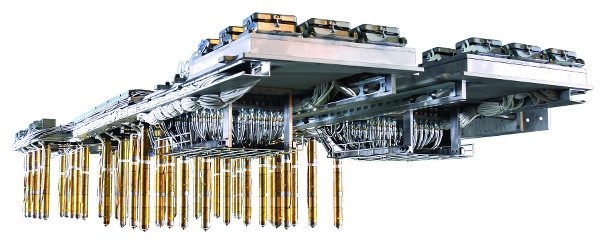 Highlights include:
Specially engineered angled manifold assembly
Pre-assembled and pre-wired
Field replaceable components including heaters
Quick actuator disassembly to release valve pin
Optional dual thermocouples
Optional water cooling nozzle jacket
Optional Drop-in functionality with quick disconnects