KraussMaffei`s CEO - Dr. Dietmar Straub and Toshiba`s Machine Co., Ltd. - President Mr. Reiji Nakajima, have signed a cooperation agreement to develop leading edge machinery for plastics processing. Both companies have already started joint projects, first results of the cooperation are expected already in 2008.
The companies agree that with their complementary expertise in different market and technology segments Toshiba Machine and KraussMaffei will jointly develop innovative machinery meeting the requirements of customers in the 21st century. It is both companies` intention to collaborate closely with each other and integrate the strengths of each company in various fields. This cooperation will enhance worldwide customer solutions by taking advantage of the acquired technologies and know-how.
In terms of sales, KraussMaffei is world market leader in machines and systems
for plastics and rubber processing. With its three divisions - Injection Moulding Technology, Extrusion Technology and Reaction Process Machinery - is a premium partner for the plastics and rubber processing industries worldwide.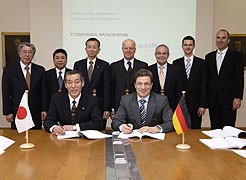 The group markets its products under the KraussMaffei, KraussMaffei Berstorff and Netstal brands. With over 100 years` of expertise and know-how in machinery for plastics and rubber processing, KraussMaffei is today a major technology and process partner for industry. The group offers a wide range of solutions that includes specialized and fully integrated turnkey systems. Headquartered in Munich, the company employs around 4000 people worldwide.
Toshiba Machine is a world leader in industrial machinery. The group of companies produces various kinds of injection molding machines, extruders, diecasting machines, machine tools, robotics and controllers, and so forth, with three main plants in Japan (Numazu, Gotemba, Sagami) and one in China (Shanghai).