The latest standard thermoforming system SharpFormer, and the supporting software KID-CAT from Kiefel are revolutionising refrigerator production. Thanks to the modular construction, the system's delivery times are almost halved compared to conventional systems. The latest innovation from the Bavarian expert for plastics processing technologies is already causing a sensation among specialist groups: "We have made a quantum leap with the SharpFormer", reports the division leader responsible, Andreas Frisch. The global standard, developed at the company's own technology centre in Freilassing, combines the latest requirements of the market with the outstanding expertise of Kiefel. Ultramodern production processes and sound technology deliver the optimum mix of advantages for refrigerator manufacturers: System delivery times of just four months instead of seven, highly efficient production processes, uncomplicated tool changes and low energy consumption.
Rapidly available - quickly in production
"We have designed this standard machine in order to be more flexible" explains Rudolf Köhler, project manager at Kiefel. "With the modular design, we save a huge amount of time and we're able to react rapidly to requirements. Our customers have their machines on site sooner and can work with them faster." Thanks to the modular system, it is now possible to freely select the production direction from left to right and visa versa without influencing the delivery time. With its compact dimensions, the system also fits into smaller halls. "Due to the faster cycle time of just 24 seconds - in other words 150 refrigerator inner liners produced per hour - the customer also generates greater revenues in the same time" adds Murat Derin, project manager at Kiefel.
A range of tools are used for production of the thermoformed refrigerator inner liners, whilst various process temperatures are required depending on the material used. Leading-edge black ceramic radiators are used for this; these are impact resistant, durable and separately controllable. In the tool interface area, Kiefel has developed a new flexible system, which facilitates interface adaptation of 90 percent of the tools found on the market within an extremely fast set-up time.
Time savings of 85 percent
In order to optimally support production, the new KID-CAT software is available on the operating panel: "This guides the operator on a step-by-step basis through the creation of a new recipe and delivers time savings of up to 85 percent", explains Stefan Wimmer, Key Account Manager at Kiefel. This unique software is supported by video clips, which visualise the thermoforming process for the operator. "With KIDCAT, every operator who is familiar with the machine can generate the new recipe in a very short time", reports Murat Derin, "whilst it is also possible to optimise existing recipes and therefore hugely improve the product quality."
Innovations for the future
After two years of intensive development time for the SharpFormer and KID-CAT software, the team around design manager Jürgen Feil are proud of the mutual success: "We always work closely together with our customers and ask what really matters in practice. We integrate these wishes in our standards." Kiefel regularly organises top-class innovation workshops, which are attended by developers, as well as experts from marketing, sales and commissioning. Innovations such as the SharpFormer and KID-CAT become a practicable reality through such interdisciplinary cooperation.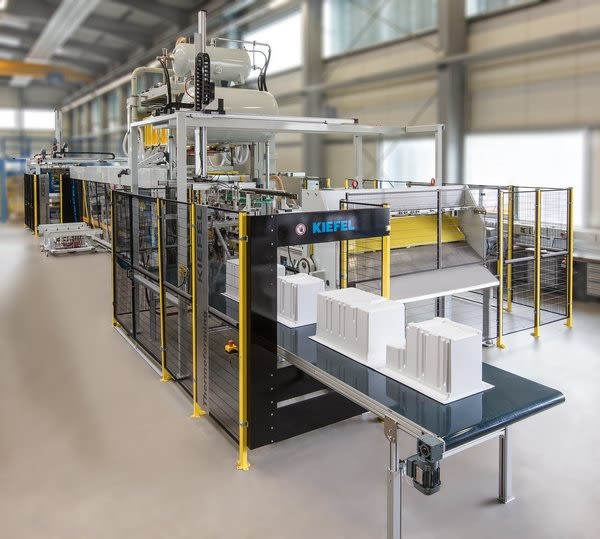 Kiefel GmbH develops and produces high quality machines for manufacturing plastic films. The traditional Bavarian company is one of the global market leaders. Our customers include well-known manufacturers from the automotive, medical engineering, refrigerator and packaging industries. We employ around 450 people at our headquarters in Freilassing. Kiefel is globally present thanks to our own sales and service branches in the USA, France, the Netherlands, Russia, China, Brazil, Indonesia and India, as well as our sales partners in more than 60 countries.
Kiefel GmbH is part of the Brückner group, based in Siegsdorf, which is a global leader in supplying machines and systems for manufacturing plastic and has around 2,000 employees. Other group members: Brückner Maschinenbau is a global market leader in film stretching technology, Brückner Servtec provides a wide range of services for film stretching lines, PackSys Global supplies special machines for the packaging industry.