Haefner who specialise in plastic spools set up a medical clean room in just nine months. The production module is certificated in accordance with clean room Class 8 (ISO 14644) and is free of particles/germs in accordance with c`GMP (current Good Manufacturing Practice) Class D. An injection moulding machine having a locking force of 3,500 kN forms the core of the new production module.
Spools weighing approximately 500 g made from impact-resistant ABS are being manufactured as the first product. The spool bodies are injection moulded in fully automatic fashion in the clean room. A five-axis robot withdraws these parts from the mould in order finally to stack and pack them in a double-film packaging material as specified by the customer.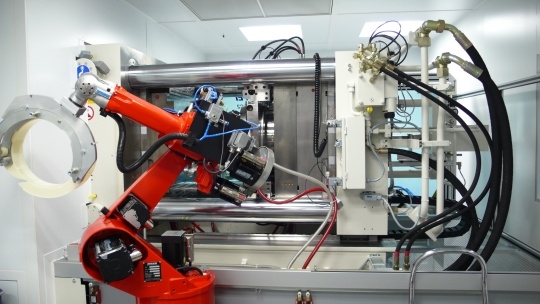 In the clean room itself an operator sees to the supply of new packaging tubes and the removal of the finished packaged units. The spools manufactured and packaged in this protective atmosphere arrive free of microorganisms and particles at the premises of the customer B. Braun Melsungen AG. This company with global representation uses these spools - without additional finishing costs and also under clean room conditions - for winding capillaries and flexible tubes having diameters of 0.7 to 5.0 mm, used inter alia for permanent venous catheters.
A particular feature of Haefner`s clean room solution is the complete accessibility of all key process control systems from outside, i.e. from the "grey zone". This applies to the injection moulding machine, the control of materials supply and the temperature control systems for the machine and mould. This saves the cost of the machine setter having to don special clothing and entering the clean room in the event of a fault or in order to change parameters. The structure was devised so that there is never any human contact with the product. This results in any possible contamination being reduced to a minimum.
The spool specialists from Leopoldshoehe owe their unusually fast production start-up to their system associates, Dittel Clean Room Technology based in Ried/Kochel (Germany), who was responsible for design, planning and certification as well as for assistance in bringing the system into operation. In the course of handover testing measured values were obtained which with regard to particle numbers and cleanliness of the room were distinctly superior to the required standards.
According to information from Jan Haefner (Fig. 3) the company`s activities in this field are to be intensified. "Our move into clean room technology opens up for us as spool manufacturers completely new target groups and applications." For users of spools this means that the costs of a subsequent cleaning step are saved. The spools can also be purchased germ-free. This is more economical and also safer.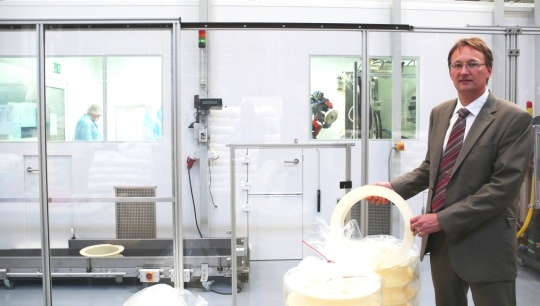 The company is one of the market leaders in Europe in the development and manufacture of spools. Haefner supplies around 1,400 spool variants having diameters ranging from 40 to 1,000 mm for the most varied fields of application. Different materials such as PS, ABS, PE, PP and PA are processed to make these spools. Spool-related products on offer include spools, drums, cops, flanges, tape reels, winding elements, conical spools, bi-conical spools, fine wire spools, disposable and reusable spools, dividable spools and shipping containers. The production of large rubbish bins and environmental conservation products having capacities of 0.5 to 240 l together with engineering parts completes the range.
Production is based on 54 injection moulding machines operating in three shifts. The available locking forces range up to a maximum of 20,000 kN and shot weights range up to a maximum of 17,000 g. Processing capacity is about 50 tons/day. Production and development are certificated in accordance with ISO 9001 and 14001. In 2007 the owner-led company with 180 employees achieved sales of around ? 20 million.