Fujitsu introduces a world first - an injection moulded keyboard made from renewable materials. This newly developed eco-keyboard KBPC PX ECO has been launched under the label "Green IT" with Biograde resin from FKuR being used for some of the component parts.
This new Eco-Keyboard underlines Fujitsu's Green IT commitment to saving CO2 emissions, and represents a further innovation for Green IT. "In order to reduce the dependency on oil, Fujitsu's new keyboard replaces 45 percent of plastic components with materials from renewable resources", confirms Jürgen Geiger, project manager in charge at Fujitsu Technology Solutions.
For the keyboard base, Biograde C 7500 CL from FKuR has been chosen. "The ease of processing using existing production equipment and the excellent mechanical properties of Biograde were the decisive factors for choosing this material from FKuR", says Thomas Raab, responsible project manager at Amper Plastik. "Parts made from Biograde meet the special requirements for keyboards and in some cases even exceed the properties of oil-based plastics."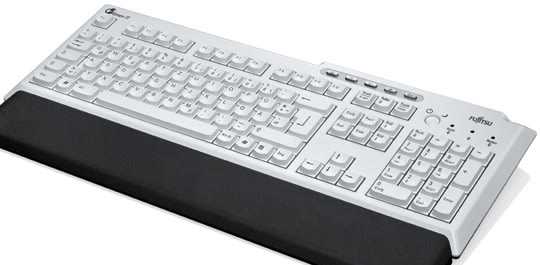 Bioplastics are a class of polymers, which have properties comparable to conventional polymers, but are made from renewable resources or enable biodegradability of the products made from this material.